RIGrunner Operating Tips and Tricks
Powerpole® Connectors
The whole point to the RIGrunner is the standardization of all of your DC power connectors using Powerpole® Connectors. You may easily install Powerpole® Connectors on your cables by soldering or by using our West Mountain Radio PWRcrimp Crimp Tool. No other tools are required. After attaching the contacts to your wires the color coded housings slide together and then click on to the contacts.
The Anderson Powerpole® housings that we use conform to the ARES and RACES standard and are designated 15-45 amps. The rating range is a function of which connector pins are inserted in to the housings. The rating of the connectors is by the wire gauge that the connector pins accept, not the pins themselves.
The current rating for a wire is rated by the temperature rise of 25 degrees C. A 15, 30 or 45 amp Powerpole® connector pin will actually withstand well over 100 amps without damage and close to 200 amps to actually cause permanent damage.
We have measured the voltage drop of a Powerpole® 30 amp connector at an incredible .016 volts at 37 amps. We tested many samples at of both 30 and 45 amp connectors at 37 amps and the worst reading we got was .021 volts. We even plugged and unplugged one over 100 times and it actually improved.
A 30 amp Powerpole® is the best choice for most connections. Even though a 30 amp connector is rated for 16-12 AWG they will accept 10 gauge with difficulty (you must cut of a few extra strands or spread the barrel open slightly). Smaller wire may be used by doubling over the wire.
The 45 amp Powerpoles® are rated for 14-10 AWG. 45 amp connector pins do not take any more current or have less resistance. They do take larger wire , but they cost more. They have a V shaped wire opening, not round like the 30 amp. making it somewhat harder to crimp and they must be crimped before soldering.
Powerpole® Connector Installation
Powerpole® Installation Instructions RIGrunner Support Page
Do not use roll pins on Powerpoles®!
Some suppliers supply roll pins with Powerpoles®. Do not use them! They can and will fall out, knowing Murphy, right in to your new radio causing smoke! Anderson does not supply or recommend standard roll pins, they supply much more expensive spiral pins, which are better. We have tested both, even the proper spiral pins will fall out. If you squeeze the wires together when removing the connectors it will spread the bodies apart slightly and the retaining pin will fall out.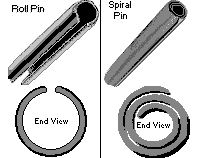 We spoke to Anderson about this concern and they said that they recommend using a cyanocrylic glue, Crazy Glue, hold the connector bodies permanently together. They do not recommend their spiral pins for critical applications. Normally the dovetail joints in the housings hold well. If you find it necessary, glue them, don't use pins. Make sure you have them assembled correctly BEFORE you glue, they will be permanently bonded together with a cyanocrylic. All it takes is a very small drop cyanocrylic of glue in the seam between the red and black.
N9EF suggests a bit of silicon glue injected in to the hole between the red and black housings. He says it holds them together quite well but they can be separated if needed.
High and Low buzzer mod.
If you would like both high and low buzzer warnings, for instance, if you are running solar powered battery or extended mobile operation, there is a simple mod.
Install a blue jumper like you would for high warning and also connect a 1N914 or 1N4148 diode across the "low" pins with the banded end towards the word low.
That is all there is to it, you will have buzzer warnings on for both high and low voltage conditions.
Fuse tricks and tips
Even though we supply the RIGrunner with a full set of fuses you will probably want to change them.
For instance if you have a 30 amp power supply you definitely want to change the input fuse to 30 amp. Likewise, if you are plugging in a pre-amp or some small accessory you want to put in a lower value. ATC/ATO fuses are available in 10 values from 1 A to 40 A
Please click here for more information on Powerpole® Connectors.
Powerpole® Connector Features & Benefits
Genderless Housings: Provide simplified assembly and minimize the number of components
Stackable Modular Housings: Available in four sizes to right size your connection need
Connection Versatility: Contacts for wire, PCB, or busbar all fit into the same housings
Low Resistance Connection: Silver or tin plated contacts inside housings that strongly force the contacts together
Color Coded Housings: Help ensure that connectors are assembled and mated correctly
Self Securing Design: Stainless steel springs create a robust force between the contacts that holds the connector in the mated condition, but allows it to be quickly disconnected.
Powerpole® Connectors
15A
30A
45A
Amps (UL) Per Pole
0 to 55
0 to 55
0 to 55
Volts (UL) Per Pole
600
600
600
Wire Gauge (AWG)
20 - 16
16 - 12
14 - 10
Touchsafe
Polarized Housing
Yes
Yes
Yes
Yes
Yes
Yes
PDF Files
Links
Data Sheet
http://www.andersonpower.com/
Buy Powerpole® Pack
View Options