Mentioned on
Everything Hamradio Podcast

A RIGblaster is the easiest way to properly connect your radio to a computer so that you may operate using over 100 existing and future ham radio sound card software programs.
View all RIGblaster models
.
Also Mentioned on
Everything Hamradio Podcast
DC-to-GO Battery Boxes
Free
Gift
with Any Purchase for Listeners of
Everything Hamradio Podcast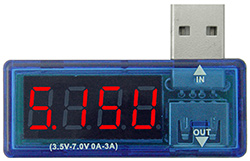 USB Port Monitor
Measures voltage and current
Tests USB-based chargers for current flow and proper turn-off
Only one gift may be redeemed per person and at the time of purchase.
Want to Learn More about Digital Modes?
Check out our
Guide to Digital Modes
with links, videos, and information about the many advantages of working digital.