RIGblaster Nomic Support
IMPORTANT READ FIRST!
This page is for support on the Nomic model only. If you do not have a RIGblaster Nomic, please select from one of the following:
Current Models: Duo | Pro | Plus II | P&P |
Models no longer in production: Plus | M8, M4, or RJ
If you are looking for help setting up software go to our Operating Tips page.
ATTENTION TenTec ORION II & OMNI VII OWNERS
GOOD NEWS! The TenTec ORION II and the OMNI VII were released with 8 pin microphone connectors unlike previous TenTec radios that incorporated a 4 pin microphone connector.
Here are the jumpering diagrams for these radios.
RIGblaster Pro | RIGblaster Plus | RIGblaster M8 | RIGblaster Nomic
Please note, these jumpering diagrams are for these TenTec radios only.
USB TO DB9 SERIAL ADAPTOR DRIVER INSTALLATION
Use these instructions to install our USB cable for your RIGblaster if, AND ONLY IF, your cable looks EXACTLY like the one pictured below!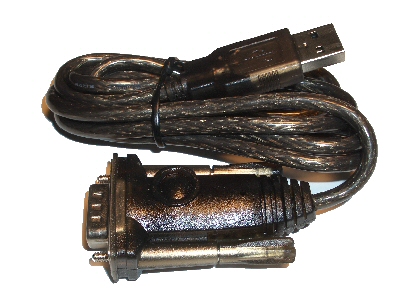 Most new computers are no longer supplied with serial ports and all ham radio sound card programs that transmit are written to control PTT with a serail port. Therefore, your RIGblaster, if purchased recently, is supplied with two cables to provide your choice, and full functionality, with both older DB9 RS232 serial ports, or with a USB connection. The supplied USB cable will emulate a DB9 RS232 serial port by converting a USB (universal serial buss) to a RS232 port.
Check your computer to see if you have an available DB9 RS232 serial port. If you do, use the supplied DB9 male to DB9 female cable supplied. Set asided the USB to DB9 cable aside for future use. If you only have an available USB socket, use the supplied USB to DB9 cable instead.
To use this USB cable pictured above, follow these hardware driver software installation instructions.
Windows, 98SE, ME, 2000 and XP ONLY:
USB driver file for Windows 98SE - XP ONLY! To download and save to your hard drive download, Click Here!
Download and run the program above to copy the necessary drivers to your hard drive.
Plug the USB connector into an available USB socket on your computer.
A New hardware found? window will pop up.
Browse to and highlight the C: RIGblaster USB drivers folder created by the above download.
Allow Windows to complete the Found New Hardware? installation (Do not cancel, stop or abort the installation: NO MATTER WHAT!)
You have completed the USB hardware driver installation at this point.
RIGblaster USB Converter Installation Check:
Right click My Computer? and then left click Properties?
Select the Hardware? tab.
Select Device Manager?
Click the + symbol next to Ports (COM & LPT)?
Check that you see the item: Prolific USB-to-Serial Comm Port (COMx)?
Make a note of the what the COM number is for x in (COMx)
Setup your ham radio sound card programs to use that COM port number.
If you have carefully followed these instructions and you do not find the Prolific USB-to-Serial Comm Port under Ports (COM & LPT) you may wish to call West Mountain Radio telephone support. Call only if you ae sitting in front of your ham station computer in order for us to help.
Windows Vista and Windows 7, ONLY
Windows, Vista Windows 7, driver pre-installer download, Click Here!
NOTE: If you have already installed the driver from the DVD that came with your RIGblaster, and the adaptor is working, there is no reason to install this driver.
Do not plug the cable into a USB port!!!
Click the download link above and "Run"
When a "User Account Control" window pops up saying unknown publisher left click "Yes"
When "Welcome to the InstallShield Wizard for PL-2030" appears left click "Next"
Left click the radio button to accept the terms and conditions and left click "Next"
Left click "Finish"
Now plug the cable into a USB port.
A balloon will pop up at bottom right that says "Installing Device Driver Software"
A balloon will pop up at bottom right that says "Prolific USB-to-Serial Comm Port (COMxx)""Device driver software installed successfully."
Make note of the COM port number assigned (xx) as you will need this to set up Amateur Radio programs.
Close all windows this completes the driver installation.
Using a microphone with the RIGblaster Nomic (User Submitted Tech Item)
I have found a round-a-bout way to use a microphone with the RIGblaster Nomic. I've not seen where it would not be a good idea; last night I tried it, and it seemed to work. What I did is used a typical computer microphone that I had run into the sound card on the mic input, and used that to transmit voice through the sound card, into the rig. All I needed to do was uncheck the mute box on the volume control for the mic. I spent some time on SSTV last night, and the IOTA contest yesterday, and by all accounts, it seems to work OK. Of course, you need to watch the levels for feedback, but overall, it seems to work. For general use with the mic, I just turn on the VOX function of the radio, and seems to work. I run 90 percent digital and CW, so this for me is a good way to use a mic for the 10 percent of the time that I'm using on the radio.
Eric Stover
K0EWS, former KC0IOX
Belle Fourche, SD
Happy Customer since 2001
Windows/ME WARNING! or "My RIGblaster is stuck in transmit after Windows/ME boots up."
Windows/ME (Millennium Edition) has been reported by many RIGblaster owners as causing a problem. After boot up Windows/Me leaves the DTR line of the Com ports in a high state causing the RIGblaster to keep your rig keyed up. If you have Windows/ME, and only Windows/ME there is a Microsoft fix for this problem. It is described on the Microsoft site as Data Terminal Ready (DTR) Line Set to HIGH After Starting Windows Me (Q285894). The fix described on the Microsoft page referenced above can be downloaded here. The file (285894.zip) is a zip file and will need to be unzipped with any of the many available unzip utilities. Running this will extract (un compress) two files. (285894USAM.EXE and hotfix.txt). Follow the instructions in hotfix.txt to implement this fix on your copy of Windows/ME. Again, this fix applies to Windows/ME only. It will not install on other versions Windows.
HP Computer with Windows/XP Pre-Loaded RIGblaster stuck in transmit after Windows/XP boots
New HP Computers having Windows/XP pre-loaded have been reported by several RIGblaster owners as causing a problem that previously only happened on Windows/ME. After boot up the DTR line of the Com ports are in a high state causing the RIGblaster to keep your rig keyed up. If you have Windows/XP, pre-loaded on a new HP Computer here is a possible fix for this problem.
The solution from HP Tech Support suggests going to the Device Manager and removing all the Communications Port(COMx)s, as listed under Ports (COM & LPT), then re-boot Windows/XP and it will reinstall the drivers and the problem should go away.
This solution was provided by GEORGE MANNING/K1CG who after several tries finally got to the right tech at HP who suggested the above fix.
If you have this problem, we suggest you call HP Tech Support at 208-323-2551 and reference Case Number 1544508374.
PALM PILOT WARNING! or my RIGblaster is stuck in transmit after Windows boots up
Note: Palm Pilot software with any version of Windows will cause your RIGblaster to transmit if it is plugged in to the same serial port that your Palm Pilot cradle is supposed to be plugged in to. If you have a little icon with red and blue and arrows pointing towards the center of a circle in your system tray (the system tray is down at the bottom right corner of your screen where the date is) your RIGblaster will not work if plugged in to the Com port that is configured for your Palm Pilot.
To fix this Palm Pilot problem either move the RIGblaster to a different serial port connection or do the following: go to "Start", "Programs", "Palm Desktop", and run "Palm Desktop". From the pull downs in the Palm Desktop software, select "HotSync", "Setup" and go to the "General" tab; un-check "Always available [put in Startup folder]". Re-start Windows and the problem will be gone. Next time you wish to use your Palm Pilot, just use the Palm Desktop program to sync your Palm Pilot.
JUMPER QUESTIONS?
The diagrams in our manual should be obvious but in case you are not sure here is an explanation. The RIGblaster Nomic ONLY connects to the mic audio, mic ground, PTT and PTT ground pins of your mic. jack. Look at your radio's owners manual's microphone wiring diagram and you should be able to figure out your own jumper diagram even if we do not have one in your owners manual or here on our support page. If if we do have a diagram check your manual against ours, the pin numbers should have the equivalent names. If you are unsure about your radio matching our "typical" diagrams please fax us a clear copy of your radio's mic. wiring and we will fax or e-mail a special diagram for your radio back to you. You need to have the PTT circuit connected and that may be tested by booting up your computer and watching your PTT indicator. The mic. circuit can only be tested by having an adequate (approx. .5 Vrms) fed in to the Nomic. The audio fed in to the Nomic may be checked at the audio out jack on the Nomic.
THE COMPUTER WILL NOT ACTIVATE TRANSMIT.
Assuming your RIGblaster is connected to your computer's serial port and the RIGblaster is properly jumpered and connected to your radio's mic. jack, you must do the computer boot up test described in the manual. Turn on your computer and boot up Windows, (or most other operating systems) Windows tests the serial ports during boot up and you should see your rig key up (PTT activation) momentarily at least once during boot up and then go back off after Windows finishes loading. If this happens you then can be sure that your computer, serial cable and RIGblaster are connected and working properly.
If after doing the boot up test successfully you find your ham software will not key up your rig (PTT activation) you can be sure it must be a software setup or operating problem, it cannot be a hardware problem. It is usually a setup problem, 7 out of 10 support calls from customers are due to software PTT control setup problems. Make sure that you have gone in to your software setup (configuration, settings, preferences) or whatever it is called and "tell" the program what serial (COM) port that you have the RIGblaster connected to. You also must "tell" the program that you wish that PTT is activated by DTR and/or RTS. YOU MUST DO THIS if you expect the program to transmit with automatic serial control via the RIGblaster or any other interface.
The proper cable is a standard serial extension cable. Wiring as follows:
SERIAL EXTERNAL MODEM CABLE WIRING
DB9F----------DB9M
1---------------------1
2---------------------2
3---------------------3
4---------------------4
5---------------------5
6---------------------6
7---------------------7
8---------------------8
9---------------------9
shell--shield--shell
NOTE: THIS ONLY APPLIES TO OUR NOMIC MODEL RIGBLASTER!
If your Nomic model RIGblaster will not key PTT during the boot up test check the value of resistor "R1", it should be 680 ohms (blue, gray, brown). If it is 3000 ohms (orange, black, red), change it to 680 ohms. Contact us if you would like us to change it for you. We found that some computers have low, non-standard serial voltage levels (especially laptops) and we changed this resistor to accommodate that fact.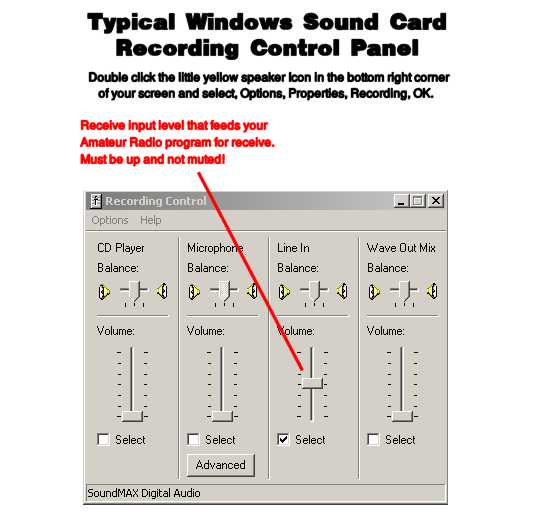 SETTING AND TESTING RECEIVE AUDIO
Read this QST article first: "The In's and Out's of a Sound Card"
Reprinted from October 2003 QST,with permission of the ARRL
If you are having trouble receiving, completely disconnect the RIGblaster and put it back in the box. The RIGblaster has nothing to do with receive. It is only for transmit. If you think it has something to do with receive you probably have your cables connected wrong. Read the documentation that comes with the ham sound card software and read the Windows help files regarding setting up and using multimedia sound. Please do not call or e-mail us at West Mountain Radio with software questions, we have nothing to do with the software or it's support. You should e-mail the software author if you can not get their program to work.The most direct way to solve a software problem is to try an different program from a different author. If several programs do not work on receive you may have your receive audio cables hooked up wrong, or you have a problem with your sound card setup or installation. Refer to the sound card control panel diagram below for a little help. This is a typical diagram, yours may differ. If you are using a laptop you probably have to use the computer's microphone input and you must adjust the microphone virtual slider for receive not the line input virtual slider. Don't forget the obvious: you should hear signals if you expect to copy any; the bands may be dead or your antenna isn't working. Make sure that you monitor the receive audio at the output of the sound card to be sure that the computer is indeed getting the receive audio. If the Nomic is connected you can conveniently monitor the receive audio at the Nomic's audio out jack using amplified computer speakers or headphones.
You could have receive hum or noise problems interfering with the receive. You must initially use the speaker output of your radio plugged in to the line input of your computer. If you use a low level audio output of radio, especially with the mic input on your sound card you may need an audio isolation transformer for receive. If you have your computer plugged in to a different branch of the AC wiring in your house you can expect problems. Plug your computer in to the same AC outlet strip so it is grounded together with your radio.
Note: for VOX activated transmit instead of serial PTT activation you must mute the receive audio input (see sound card playback control panel diagram below) to prevent receive audio from coming out of the sound card and triggering the VOX.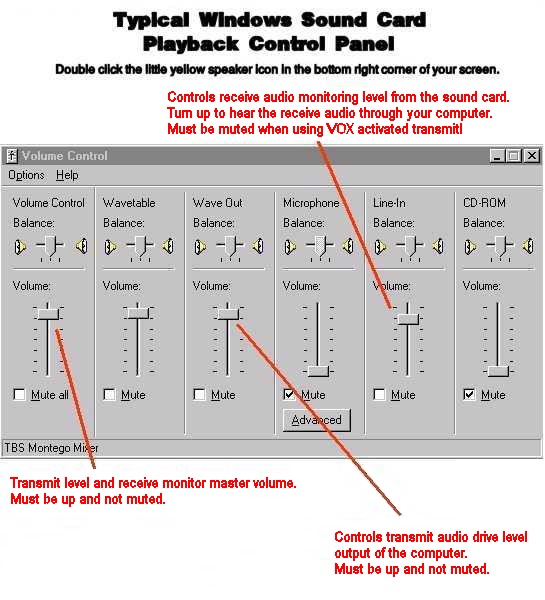 SETTING AND TESTING THE TRANSMIT AUDIO WITH AUTO SERIAL CONTROL.
Read this QST article first: "The In's and Out's of a Sound Card"
Reprinted from October 2003 QST,with permission of the ARRL
Assuming the software you are using correctly activates transmit (PTT Activation) when you "tell" the software to transmit, continue reading.
Command whatever software you are using to go to transmit or test mode so it will transmit a steady tone. Make sure the RIGblaster keys the radio as indicated by the radio going into transmit mode (PTT activation). This must happen in order for audio to be transferred from the computer and to the rig. If this does not happen go back and read "THE COMPUTER WILL NOT ACTIVATE TRANSMIT" on this support page.
Your radio must be set to your normal mic. gain setting, the speech compressor off, and the RF Power (drive control) at maximum with the radio in USB or LSB. The RIGblaster's audio level control should be set initially to max, full clockwise as viewed facing the control on the right side of the RIGblaster. The computer's sound card control master and wave output sliders should be set to provide enough audio to show approximately 50 % power. Arriving at a proper setting requires a balance of the setting of the RIGblaster audio level and the computer sound card sliders. You should end up with your computer sliders set between 1/4 and 2/3 of the way up.
If you have difficulty with this setting it is usually due to the sound card settings. First make sure you understand that the virtual control panels of your computer's sound card usually have more than 35 separate adjustments controlled by virtual sliders and click boxes. If you do not have enough transmit audio there is about a 90% chance that you need to slide a slider or check a click box on your virtual mixer panel.
TIP: you must double click the little yellow speaker in the bottom right corner of your windows screen to see your Playback Volume Control panel and you must go to Options, Properties, Recording to see your Recording Control panel. You may also have to click an Advanced button to set other settings to set each and every setting for all ham radio programs.
The ONLY way to check that your sound card is generating transmit audio sound is by monitoring it with computer headphones or speakers plugged in to the RIGblasters audio out jack. You must find at least two sliders, generally on the Playback Volume Control Panel usually labeled Volume and Wave that adjust the volume of the sound cards output and the level that is fed to your radio to determine it's SSB transmit power output. If these virtual controls are not visible or they do not function you must fix your computers sound card installation so that it works properly.
If moving the Wave or Volume left hand slider has no effect you have a improperly installed sound card software installation. Refer to the manufacturer of the sound card to fix this, generally they will have a web page with a download of the exact correct driver installation file for the specific make and model sound system that is installed in your computer. Do not attempt to re-install a sound card unless you are sure you have the correct software. Be aware that your sound card almost always good when it doesn't work, it is software, don't go out and buy and new sound card unless a proper installation fails.
Having computer speakers that are turned up too loud has caused many people to set their sound cards so low that the rig had no output. If your computer speakers are too loud turn them down with the knob on the front of them and turn up your sound card so the radio will transmit. If your computer speakers have no volume control un-plug them and turn up the sound card.
If you use low impedance un-amplified speakers or headphones plugged in to the RIGblasters audio output you will effectively short out the audio from your sound card and your rig will not transmit until you unplug them. You must use proper amplified speakers or a pair of headphones designed for use with a computer. The only exception is with a sound card that is rated at several watts of audio output, most of them are line level out and will not drive un-amplified speakers.
It was mentioned before but make sure you have the RF power (drive) control of your radio set at maximum. You must do this even if you wish to run 2 watts with your 100 watt rig. Your power output is set with the audio level that is fed in to the mic. jack, just like if you speak softly in to your mic. your radio shows less power. Do note that most rigs will not run digital modes at full power and you want to set this level to 50% power output or less to keep your rig from overheating.
SETTING AND TESTING THE TRANSMIT AUDIO WITH VOX CONTROL.
Read this QST article first: "The In's and Out's of a Sound Card"
Reprinted from October 2003 QST,with permission of the ARRL
Unlike our other RIGblasters your Nomic always has the computer's audio connected to your mic. jack. To set up for VOX operation using your radio's VOX first connect your mic. and adjust all of your radio's VOX controls so they work perfectly while speaking in to your mic. Refer to your radio's owners manual for instructions. Most radios have several VOX controls including, mic. gain, speech compressor, VOX gain, VOX delay and anti trip. You need to set up your VOX properly, make sure that you understand what these controls do and how they interact. You should turn off your speech compressor for sound card operation so set the VOX up using your mic. with the compressor off.
With your RIGblaster Nomic connected set your software to generate transmit audio tones. Turn up your sound card master and wave virtual volume sliders and set the RIGblaster audio level so that the AUDIO drives your rig to less than 50% of full output with your RF drive / transmit power knob at max. If your rig doesn't key up by VOX re check all the adjustments and make sure there is sound coming from the computer when it is supposed to be "transmitting" as monitored at the audio out jack of the Nomic. Check all of the adjustments: Vox gain, Vox delay, Anti Trip, Mic. Gain, Mic. Compression, RIGblaster audio level, Sound Card Output/Master level and WAV Level. The RIGblaster MUST be connected with a STEREO cable.
SETTING AND TESTING THE TRANSMIT AUDIO WITH AN FM RADIO.
Read this QST article first: "The In's and Out's of a Sound Card"
Reprinted from October 2003 QST,with permission of the ARRL
Since 95 out of 100 ham radio sound card programs were only intended for use with SSB radios we did not put audio setup instructions for FM operation in our manual. We wanted to keep our manual clear and to the point as most people do not like reading manuals anyway, We note on the back of the manual in bold print: "IF YOU CAN'T FIND IT HERE GO TO OUR SUPPORT PAGE"
Recently a friend, K1RFD, wrote a second in a series of FM sound card programs making further RIGblaster instructions necessary. The first of K1RFD's FM programs was EchoStation, a full repeater controller and club announcement machine; the second is the EchoLink® system. The EchoLink system enables anyone to connect the Internet to their radio, using a RIGblaster. Previously there was only sound card packet or SSTV for FM operators.
With an FM transmitter you do not normally have mic. gain, speech compressor, ALC meter or power output meters to watch or set. FM audio level should be set either with a deviation meter, AC millivolt meter or by listening on a second receiver. If you lack the equipment or technical experience simply listen to your signal on a second receiver. Set your audio level so that your radio sounds as loud as other stations. Do not confuse how loud the audio (modulation) is with how strong your signal is. This is easily done on packet as there are usually several stations on the same frequency. With voice or SSTV it is going to be harder to find a signal to match to. You should with some effort be able to set your radio's audio level (modulation) being fed from the computer through the RIGblaster to match another good signal.
Presently the EchoLink system does not have detailed instructions on how to do this. Understand that if you are setting up an EchoLink system link station or repeater link that you must have a an audio signal (VOIP) coming from remotely from the Internet to your computer and then out of your sound card through the RIGblaster to your radio. You must have two computers and two Internet connections to test this audio level. Also consider that if the other computer is set too loud or too soft your radio's modulation level will be off even if you set it well.
AA3EU has a great write up for setting up the EchoLink system using a RIGblaster see ==> www.qsl.net/aa3eu.
MY AUDIO IS NOT PERFECT WHEN I HAVE MY COMPUTER MONITOR ON.
CRT computer monitors have strong AC magnetic fields, not a problem with a laptop or LCD display. Make sure that the RIGblaster and all the associated cables are not too close to your computer monitor. If turning off the monitor fixes the problem you must move the RIGblaster and it's cables away from the monitor. You may have similar problems if the RIGblaster jumpers are not installed correctly. The jumpers must have the correct mic. audio and mic. ground connections.
DIGIPAN PROBLEMS
If you are having trouble with DigiPAN stop using it and try WinPSK! We have had numerous reports of DigiPAN having a blank waterfall display. In QST there is a report of this which was cured by increasing the display colors to 256 colors or higher. We have experienced this but we were running high color and we fixed it by re-booting the computer. We have also had reports, and experienced it ourselves, of, DigiPAN not working with the serial port. We do not know what causes this but they are aware of the problem. We fixed this by completely removing and re-installing the program.
THE MYSTERIOUS MISSING TRANSMIT AUDIO.
Read this QST article first: "The In's and Out's of a Sound Card"
Reprinted from October 2003 QST,with permission of the ARRL
This is a good one and has gotten many. It goes like this, you hook everything up and the rig doesn't get any transmit audio, a week of evenings later you call West Mountain Radio and we usually help discover the problem was one mouse click away, literally a week of evenings and it was a mouse click.
This paragraph has evolved from many phone calls, some problems may be just a mouse click but several turned out to be obscure.
CHECK THE FOLLOWING AND DO NOT MISS OR IGNORE ANYTHING!:
Make sure you are plugged in to the OUTPUT of the sound card to feed the "Audio in" of the RIGblaster. Either the line out on a desktop or the headphone output of a laptop. The thing that will get you is, in the dark corner of your computer you can't see the infernal little "international symbols" that label the jacks. Don't make your self feel silly make sure you have the output!
Make sure you are using a STEREO 1/8" 3.5 mm mini plug cable. The kind with a plug EXACTLY like the ones on Walkman style headphones. They must have three connections commonly referred to as tip, ring and sleeve. Make sure you have the same plug on BOTH ends. DO NOT USE RCA phono plugs, don't laugh, someone did this. An RCA phono plug is NOT a phone plug, notice phone/phonO...... If you use a mono cable with 2 connections just tip, sleeve you will be shorting out one channel of the sound card and the other channel will be pulled down by the attenuator network in the RIGblaster due to the short circuit created by the wrong plug. It may work with a mono cable but you will get less than half the audio for transmit that you normally would. BTW mono is OK for the receive connection.
TOO MANY volume controls, yes you may have as many as 7 adjustments between the computer the RIGblaster and the radio. The combination of which will make it appear that you have no transmit audio. You have to adjust them all for the best compromise and end up with proper mic. audio using your mic. simultaneous achieving the proper modulation level for sound card transmit. On your radio you probably have mic. gain (set it for your mic. to work properly), your speech compressor (off for digital modes), your drive adjustment (turn it up all the way and use the audio adjustments to set digital mode transmit power output).
The RIGblaster only has one adjustment on and it is used to achieve a balance between your computer and your radio. Turning it clockwise looking at the control gives you maximum audio, a maximum setting is usually too high.
Here is where Bill Gates gets in the act and this is most people get messed up. Remember you have to push the "START" button to turn your computer off right?!! Remember this when you go to adjust you sound card. Little known by many is the hidden control panel that controls all the different types of sound the switching and audio routing of the sound card. If you take your mouse and "double click" the little yellow speaker icon that is usually located in the bottom right corner of your computer screen you will find a nifty panel of poorly labeled slider adjustments with nasty little check boxes that make it not work or work. To make matters worse some of the adjustments you need may be hidden and have to be dug out by you. If you get your RIGblaster transmitting without understanding the Volume Control panel then it is just dumb luck. Please understand that these instructions are for a typical sound card volume control panel and they ARE different on different computers and sound cards. The all the controls have a horizontal balance slider and you must put these all in the middle. The left had vertical control is the "master" which controls everything that comes out of your sound card, it must be pushed up. You must UN-mute or select the master along with the line in and the wave output. The wave output is your "transmit audio" adjustment but it can be defeated by the master, remember the one on the left that you are supposed to have up. Make sure that you have the master and the line turned up until you are transmitting the proper level, half way may not work, 3/4 may not work all the way up is too much. BTW the line in sets the receive audio level on a desktop installation but the mic. usually sets the receive for a laptop. Experiment with everything until you have a total understanding of what all the mouse knobs do. Note: if you don't see the "wave" adjustment you may have to go to the volume control "Options" and them "Properties" and then select the missing ones. It is a good idea to mute, turn down or de-select the ones you are not using, like midi, CD, telephone mic. (on a desktop).
HERE IS ONE THAT GOT US AND OTHERS: Several RIGblaster customers seemed to be doing everything right but they had no audio with popular PSK31 programs.
Here is what it is: if you select less than 500 Hz or, too high, more than 3000 Hz on your DigiPan or WinPSK program by clicking on the far left or far right sides of the waterfall tuning screen, IT WILL NOT WORK.
What is going on is you can't hear 150 Hz come out of a 1" laptop speaker and worse yet your SSB transmit audio filtering in your radio can't "hear" it either. It will appear that your RIGblaster isn't hooked up. Do not get caught by this trap. We stumbled on it by accident with a customer after going through everything step by step.
If anyone has figured out any other way to make their RIGblaster not work please tell us and the authors of your computer software.
REMEMBER you must hear audio coming out of BOTH channels of the RIGblaster audio out jack with computer speakers or headphones plugged in. If you do not hear sound at that point, you do not have any sound card audio going in to the RIGblaster, therefore you will not transmit!
RF OR GROUND PROBLEMS.
Much to our amazement we have had very few reports of problems. If you install your system according to our manual and use a microphone that is made by the radio manufacturer you will not have a problem. Out of perhaps 20 reports of problems out of 11,000 RIGblaster customers, two of them were caused by operation from the station DC supply instead of the wall cube that we include with the RIGblasters. Three others had there computer plugged in to a different home wiring circuit from their ham station. All of the other problems were due to a particular brand of after market microphone. One customer thought he had a problem because he did not have the RIGblaster top cover screwed on tightly.
If you do have a after market mic. try the original mic. that was supplied with the radio. The only definite help we have with the after market microphone problem is that they use the "older style" Yaesu common PTT/Mic ground wiring scheme. This is true even if they were sold to work with a newer Yaesu. Use the "older style" Yaesu jumper diagram in our manual if you have an after market mic., even if you have a newer model Yaesu radio.
SEQUENCING WITH HIGH POWER VHF STATIONS.
Sound card software should have sequencing delays written in to the program as K1JT's, WSJT does. If computer software is going to automatically key up your station you need to consider proper transmit receive sequencing just as if you were controlling PTT manually.
A RIGblaster really has nothing to do with proper sequencer operation and should not require any changes to a properly functioning, sequenced station. The RIGblaster simply mimics your PTT switch with a set of relay contacts. If your PTT switch was sequenced properly the RIGblaster will be also, whether or not you are keying PTT via software or you mic's. PTT button.
If you have not yet set up a sequencer, the RIGblaster may make it a little easier to connect your sequencer. You may intercept the PTT control line by connecting to the RIGblaster by cutting the jumper wire on the "PTT OUTPUT" of the jumper strip.
The following has nothing to do with a RIGblaster: connecting a sequencer to a mic. PTT switch alone is not fool resistant, much less idiot proof. You still may have a MOX button on your radio and break in CW control. If you ignore those PTT control options it is just a matter of time before push the wrong button and toast your pre amp or relays.
Nomic 8 pin JUMPER DIAGRAMS
Nomic RJ45 JUMPER DIAGRAMS
Nomic 4 pin JUMPER DIAGRAMS
Nomic Yaesu Modular 6 JUMPER DIAGRAM
Nomic CW Cable
Nomic HT JUMPER DIAGRAMS
Nomic to the FT-897 DATA port
EchoLink is a registered trademark of Synergenics, LLC