RIGblaster Frequently Asked Questions
Which model should I get?
It depends on your operating desires, your budget and to some extent which radio you have.
For simple EchoLink operation, a RIGblaster Nomic may be all you require. It uses your existing sound-card and provides "serial port PTT". With the supplied USB to RS-232C adapter you no longer even need a real serial port on your computer.
Our newest model, the RIGblaster Advantage is probably your best choice for HF digital modes and VHF/UHF packet. It boasts an impressive range of features you won't find on lesser competitive brands including a single USB connection which provides your computer with a virtual serial port, a USB sound-device and powers the RIGblaster.
Other great features of the RIGblaster Advantage include a CI-V/CAT port, CW & FSK jacks, front panel audio-level controls (both RX & TX), serial port or VOX PTT and a footswitch jack. External speakers may also be hooked up for monitoring receive and transmitted audio.
The RIGblaster Pro is the right choice if you wish to use your computer sound card for advanced tasks such as processing your transmit audio in real time, record voice keying files from your radio microphone or record both sides of your QSO. It also has separate CW and FSK jacks and permits use of a headset microphone in addition to your main microphone.
The RIGblaster Pro is the only model which will support joining an EchoLink QSO using your radio microphone.
For SO2R, the RIGblaster Duo is the model to get. You can easily share a microphone, computer sound card, speakers and headphones between two radios. A simple A/B switch allows easy radio changeover. Two CAT/CI-V ports are provided which function irrespective of the A/B switch position. Audio mixing between radios is accomplished using front panel switches and a master level control for the two built-in 3W stereo amplifiers.
The RIGblaster Plus II is the recommended model for those on a budget who wish to use their existing sound card but still allow connection of your radio microphone. An easy to configure USB interface is provided (which also powers the RIGblaster) along with a CAT/CI-V port, a footswitch jack and CW keying jack. PTT is either serial operated or VOX.
For those who prefer to use the accessory jack on their radio then the RIGblaster Plug & Play is the right choice. This RIGblaster uses your existing sound card and uses a single USB connector to provide power and serial port PTT. There is also a CAT/CI-V port, a CW keying jack and transmitted audio monitor jack. We have a range of adapters to allow the Plug & Play to operate with many popular radios.
You may use practically ANY radio with all RIGblasters! Our RIGblaster Pro, Advantage, Duo and Plus-II work with both 8 pin screw on radios and with RJ45 equipped radios, as supplied.
We have 4 pin screw on adaptor kits as an option for all models. The Nomic comes standard with a microphone cable for 8 pin screw on microphone connector radios and RJ45 microphone connector radios. There is an optional cable available for radios with 4 pin screw on microphone connector and a cable for several Yaesu radios with a 6 pin telephone like modular microphone connectors. Note that you will not be able to use a Yaesu Modular 6 microphone with a RIGblaster but you could use any brand of microphone if the plug fits.
Other than the Plug & Play, all RIGblasters are universally compatible, you can switch rigs by switching the microphone cable and plug in jumpers. Radio to computer interfaces from other companies must be sold or thrown away when you need a different connector for a different radio!
What equipment do I need to use a RIGblaster?
You need a compatible radio: see "Will it work with my radio?".
You need a computer in your ham shack with or without a sound card: see; "Do I need a sound card inside my computer?".
An available serial port or USB jack: see: "Do I need a serial port?".
There is also digital mode software available for Mac & Linux computers (Google "FLDigi").
Will it work with my radio?
The RIGblaster Advantage, Pro, Duo, Plus-II and Nomic models come with cables and instructions for any radio that uses an 8 pin screw on microphone connector or an RJ45 8 wire Modular telephone style jack. To use any of these models with a 4 pin metal screw on jack radio you need to order our 4 Pin to 8 Pin Conversion Kit.
An important feature of the RIGblaster Advantage,Pro and Plus-II is that all the features of your microphone will work. All the wires are connected through. The only functions that we intercept are the microphone audio and PTT. The grounding is also maintained for rigs with common or separate PTT and microphone grounds.
You can use any microphone that currently works with your radio with the exception of several Yaesu and Icom radios (see FAQ #7 below).
You may also easily adapt one brand of microphone to another radio by switching our plug in jumpers around accordingly. We cannot guarantee this possibility. Some microphones have built in pre-amps or require power from the radio in order to operate properly This may make that mic. incompatible with another brand or type of radio.
The RIGblaster Pro has a electret microphone bias circuit built in to all the use of an electret microphone when the microphone is directed to the sound card and it is disconnected from the radio.
Station hookup diagrams for the RIGblaster Advantage
Typical station hook-up diagrams for "8 pin round" and "RJ45 modular" microphones ...
advantage_hook_up_8_pin_round.pdf
advantage_hook_up_rj45.pdf
What does your software do?
We do not write or supply software for the RIGblasters. We only provide a very up to date collection of ALL of the transmit/receive ham radio sound card software that we could find on the Internet.
We do try to work as closely as possible with all the ham radio sound card authors and we have been instrumental in developing new software. We do not have ANY business arrangements with any of the software authors. We only make a hardware interface that is compatible with all 3rd party sound card ham software that we are aware of.
Our hardware is greatly software independent, it will work with all present and probably all future ham radio sound card software. This software was written by many very talented and dedicated hams and it comes in the form of demos, freeware and shareware.
Almost every operating mode is now supported by freeware. Our DVD is included for free with a RIGblaster, as a convenience, simply to make it easy as possible to get started.
We are not in a position to properly support all of the software but we try. The original author of the software is the only persons that can really help. Try not to ask us about software as we do not know what the author of the software should know. Usually there is all you need on the authors web site or included in the software's help files. In the spirit of our hobby you should experiment and learn. We do have a good working relationship with most of the software authors and we hope that you support their efforts with your encouragement and/or purchase their software.
There is software on our DVD for microphone equalization, noise gating and speech compression for use with the PRO. These programs are available for professional studio use but there are inexpensive and free programs.
What does your software cost?
We do not write or supply software for the RIGblasters therefore we do not sell it.
Sound card software that works with a RIGblaster is either free, cheap or expensive, it depends on the author, not us.
There are no licensed commercial applications on our DVD.
Our DVD is simply a collection of Amateur Radio - Sound Card Software that we include FREE with every RIGblaster (except the Nomic experimenter). You can purchase the DVD separately for about $10 which is less than our production and manufacturing cost as we have spent hundreds of hours collecting, updating and organizing our DVD. We think you will appreciate that when you get it, and you will understand why we lose money selling it for only $10.00.
We hope our DVD makes it easier to get on the air with all of the great ham sound card software that has been written.
What radios will not work with a RIGblaster?
As far as we know all model RIGblasters (except the Plug & Play) will work for sound with every radio that was ever made as long as the cables fit in to the radio.
There are some new radios that work but their supplied microphones do not. These microphones have microprocessor control of PTT that do not use PTT switch contacts to activate the radio. Those microphones will not work with our interface or any other interface.
Icom V-8000, IC-2100H, IC-2200H, IC-2800H, IC-207H, IC-208H, IC-2710H, IC-2720H, & IC-2725E using the stock microphone such as the HM-133V, and the Icom IC-7000 using the HM-151 mic, have a peculiar PTT circuit. When they are plugged into the radio they disable the conventional PTT wiring on the radio's microphone jack and control PTT by a digital signal. This causes the RIGblaster to be able to control PTT only when the microphone is unplugged from the RIGblaster. The microphone works through the RIGblaster but the RIGblaster cannot activate the radio's PTT terminals as they are disabled by the digital mic.
The RIGblaster works perfectly when the microphone is unplugged from the RIGblaster. The work around for this problem is to use any normal microphone such as the Icom HM-118 or HM-103 that has a conventional PTT circuit. Also you can simply unplug the High Function ICOM microphone when using the RIGblaster in digital modes. The Icom mics that incorporate this digital method of PTT are the HM-98, HM-133 & HM-151 however there may be others. Icom only told us about these two microphones.
This is not an issue with a RIGblaster Nomic model as the microphone must be unplugged to use a Nomic (no mic.).
There are some older radios (mainly Icom VHF mobile) which may not work with the Nomic as their PTT circuit has very high current demands compared to modern radios. The Nomic opto-isolator may need to be switched for a solid-state relay if you must use one of the older radios with a Nomic. We have instructions available or can perform the modification for you.
Our other RIGblaster models (except the Plug & Play) use a mechanical relay for PTT which can cope with these older radios.
The Yaesu FT-90, FT-100, FT-1500, FT-1802, FT-2600, FT-2800M, FT-7100, FT-7800R, FT-7900R, FT-8000, FT-8100, FT-8500, FT-8800 & FT-8900 have a Modular 6 microphone jack so our standard cables do not fit. These are the only radios we have seen that use this somewhat unusual microphone jack and PTT circuit. The optional Yaesu Modular 6 Custom Microphone Cable is necessary to use a RIGblaster with these radios. You will not be able to plug the microphone that matches these radios into the RIGblaster, however your computer will be able to pass audio to the radio and you will be able to operate digital modes. The Yaesu Modular 6 Custom Microphone Cable will only allow you to plug the RIGblaster into the radio's microphone connector.
Will my computer work with a RIGblaster?
The question should be, will my computer work with ham radio sound card software. The RIGblaster only needs to be compatible with the audio output of your computer. It also is automatically controlled by the simple on/off signal of a serial port for PTT control and audio switching, no data flows, just on or off. The software compatibility has the much more complicated task of communicating with your computer Far and away the best way to tell if your computer will work is to install some software and try it!
Download whatever software for whatever mode you are interested in from the links here on our web site or search the web. You will be able to install and run software without a RIGblaster with a simple receive audio connection between your radio's audio output and your computer's audio input.
Make sure you try "transmitting" with the software. You will not actually be on the air but you should be able to hear the transmit audio tones coming from your computer. If you can receive signal and hear the transmit audio tones with your computer, it works. We highly recommend doing this before buying a RIGblaster. You will be all ready to go when you get your RIGblaster and you will know what to expect when you actually get on the air.
Note: if you are interested in only PSK31 try Airlink Express or Digipan; for RTTY try MMTTY; for SSTV try MMSSTV; for MFSK16 and multi-modes try FLdigi & MultiPSK.
If you are unsure about what to try, try them all, but that will keep you busy for some time. If you would like our recommendation there isn't a bad one in the bunch. All the programs on our links are great.
Can I use a USB port if I don't have a serial port?
Yes, and all of our RIGblasters are USB capable, that is they either plug directly into a USB port (RIGblaster Advantage, RIGblaster Plus-II, RIGblaster Plug & Play and the RIGblaster Duo) or they are packaged with a USB to Serial Port Adapter (RIGblaster Nomic and RIGblaster Pro).
All of the software was written for serial port control so it will work directly with a USB to Serial Port Adapter as well. With the USB to Serial Adapter you can add the function of a serial port to a computer that doesn't have one.
This and almost all USB to Serial Adapters have limited support for RTTY/FSK transmission. We have only found one program that will do RTTY/FSK and that is MMTTY using the addin EXTFSK. See our RTTY Links page for more on this.
What cables do I need?
All of our RIGblaster products (except Plug & Play) come supplied with all the cables you need -right out of the box- to get on the air with almost any amateur transceiver.
With the RIGblaster Advantage, Duo, Pro & Plus-II models we supply at least one of our universal bi-directional "mic" cables which allows connection to either "8 pin round metal" or "RJ-45 modular" style microphone jacks.
Cables supplied with the RIGblaster Advantage:
(1) 8-pin Screw-on Custom Mic Cable, 3 ft
(1) 1/8" Stereo Mini Plug Patch Cord, 6 ft
(1) USB A to B Interface cable
Cables & adapters supplied with the RIGblaster Pro:
(1) 8-pin Screw-on Custom Mic Cable, 3 ft
(6) 1/8" Stereo Mini Plug Patch Cord, 6 ft
(1) DB9M to DB9F Serial Cable, 6 ft
(1) USB to RS232 Male Adapter
Cables & adapters supplied with the RIGblaster Duo:
(2) 8-pin Screw-on Custom Mic Cable, 3 ft
(1) RJ45 to RJ45 Mic Cable, 3ft
(8) 1/8" Stereo Mini Plug Patch Cord, 6 ft
(1) USB A to B Interface Cable
(2) 1/8" Mini to 1/4" Adapters
Cables & adapters supplied with the RIGblaster Nomic:
(1) 8-pin Screw-on Custom Mic Cable, 3 ft
(1) RJ45 to RJ45 Mic Cable, 3ft
(2) 1/8" Stereo Mini Plug Patch Cord, 6 ft
(1) DB9M to DB9F Serial Cable, 6 ft
(1) USB to RS232 Male Adapter
Cables supplied with the RIGblaster Plus-II
(2) 1/8" Stereo Mini Plug Patch Cord, 6 ft
(1) 8-pin Screw-on Custom Mic Cable, 3 ft
The RIGblaster Plug & Play may require an adapter to fit your transceiver's data jack. Many newer radios already have the 6 pin mini-din connector in which case you most-likely will not need an adapter.
Check the following page for compatibility with your radio:
http://www.westmountainradio.com/pnpradiomatrix.php
We also have a range of optional cables for many radios. These include rig control (CAT/CI-V), fixed-level audio, FSK and CW keying.
Check our online shop for any custom accessory cables that you may need or want.
Does a RIGblaster work with the jacks on the back of my radio?
Only the RIGblaster Plug & Play is designed to interface to a transceiver's data jack/accessory socket. Many newer radios use the 6 pin mini-din connector which mates directly with the Plug & Play's data cable. Other radios will require an adapter and you can check compatibility at this page
http://www.westmountainradio.com/pnpradiomatrix.php
You can use the Nomic with back panel jacks but we do not supply ready made cables for that purpose. You may wish to make your own using one of our stripped and tinned cables. If you go in to a line input on the back of your radio your will probably have to remove a 100 ohm voltage divider resistor R2 to increase the audio level.
The rear panel connections on some radios may work, but others will have certain problems. Rear panel data, phone patch or auxiliary jacks may leave your microphone hot while transmitting with the computer causing illegal emissions the CW/data portions of a band. This problem is avoided, with our standard direct microphone jack connection. Rear panel inputs may not function with VOX and they may not work on many modes. Some will work on FM but not SSB others may work on LSB not USB, beware of this before spending time making your own cables for rear panel connections. As we recommend the microphone jack will always work properly!
You can see why we use the microphone jack in order to make the RIGblaster Advantage, Pro, Duo & Plus-II models compatible with all rigs by avoiding problems with rear panel jacks!
Will a Rigblaster do CW or true FSK?
Yes, all current models of RIGblaster can be configured for CW or FSK keying via the serial port.
(The Nomic can be configured for CW keying only)
Many hams use our RIGblasters with the popular RTTY program MMTTY for true FSK keying.
The RIGblaster Pro has separate CW and FSK jacks while the others use the same jack for both purposes. The Duo has 2 sets of CW/FSK jacks for each radio but both CW jacks and both FSK jacks are operated together.
The RIGblaster Advantage can also perform full-break-in or semi-break-in CW from any sound card based Morse program. The program doesn't even have to support serial port keying because the Advantage has its CW keying jack logically "OR'ed" to the VOX circuit (only in VOX position).
FSK and CW keying are controlled by the DTR serial line. If your software can activate DTR for either function, and your radio supports it, the RIGblaster will key for your transceiver.
You will require optional cables for CW or FSK. See our website shop for available cables for your radio.
Will a RIGblaster work with my sequencer on my high power VHF station?
If you microphone's PTT button works with your sequencer the RIGblaster will also. The RIGblaster simply does the same thing as your mic's PTT button.
The RIGblaster Pro has two PTT RCA jacks, in and out, they may be separated by removing a jumper to accommodate a sequencer control loop.
If you are not sequenced and have been doing it manually you may run WSJT safely. WSJT was written by an avid VHF operator; Joe made sure that his software has transmit and receive delays built in to eliminate the problem. WSJT will operate safely with a station that should be sequenced, but isn't. WSJT will also work properly with a station that is sequenced. This is not necessarily the case with other sound card programs, be careful if you run any other software and you station needs sequencing.
The RIGblaster can make it easier to hook up a sequencer as it provides header pins to easily intercept the PTT line to your radio's microphone jack. Be aware that a sequencer connected only to a microphone jack PTT connection is NOT SEQUENCED for break in CW or MOX button operation!
What about grounding?
In general your station should have a good, single RF ground. This is not the same as AC ground.
For some situations a good RF ground may be difficult to achieve and the use of a properly balanced antenna may help if you suffer from RF in the shack.
There should be no need to ground a RIGblaster directly.
For models with USB connectors, the supply and ground comes from your computer. Your computer should be grounded to the same AC outlet as your station's power. Having your computer on a different house wiring circuit is a bad thing for your ham station in many respects, especially lightning damage.
The PRO model has many more connections than our other models so it has much more extensive ground isolation. It uses an isolated wall supply, a isolated DC to DC converter, three opto-isolators, three shielded audio isolation transformers and three relays!
What precautions should I take operating the RIGblaster from 12 V DC?
This is not an issue with most of our models as they are powered by the USB or serial-port on your computer.
With the RIGblaster Pro and Duo (as with any 12 VDC station accessory) it is extremely important to have a solid and reliable 12 V negative return connection for your radio's power feed. If the negative lead powering your radio accidentally becomes disconnected and a RIGblaster or other station accessory is connected directly to that same 12 V power supply negative connection, 20 amps or more will go through part of the RIGblaster and through a circuit in your radio that wasn't designed for that much current. That may burn out the RIGblaster and possibly your radio, voiding warranties. Carefully follow the simple precautions on our support page and the instructions provided with our DC cord set.
Using the wall cubes that we supply with 120V and 230V RIGblaster Pro/Duo you do not have to worry about this. Wall cubes are separate power supplies, independent of your other power supply providing full ground isolation.
Can I switch one version RIGblaster to another style radio?
Yes you can use any RIGblaster with any radio provided you can plug in the cables.
RIGblaster Advantage, Pro and Plus-II models work with an 8 pin microphone jacks and RJ45 Modular radios. A 4 pin conversion kit is available to make these RIGblasters work with Ten Tec and older radios that use 4 pin screw on microphone connectors.
You can use some other type or brand of microphone with a different type or brand of radio if you configure the jumpers correctly, you don't have to solder anything just use our jumpers as a patch to make the appropriate connections for microphone audio, microphone ground, PTT and PTT ground. We do not have support for doing this but you should be able to figure it out if you have the microphone wiring diagrams that came with your microphone and radio. Be careful not to hook up anything else besides audio and PTT. You will have to have a standard dynamic microphone and microphone jack to mix radios and microphones. Amplified or electret microphones may be a problem.
Note that you will have to re configure the RIGblaster jumpers when you switch radios and microphone cables.
Do I ever need to unplug RIGblaster for normal operation?
Only our Nomic has to be disconnected to hook your microphone back up, that is why we call it a "no" "mic".
All other RIGblaster models allow completely normal operation of your station while connected. The audio quality will be the same.
Some Yaesu microphones using a 6 pin modular plug, and some Icom microphones which use a digital PTT signal cannot be attached to a RIGblaster in which case you would need to unplug the RIGblaster from the radio before resuming normal phone operation. Other microphones could be used with these radios which would alleviate the problem.
Can I use my radio/microphone to join an EchoLink QSO on my own node?
Only the RIGblaster Pro allows you to use your node-radio's microphone to join a QSO on an EchoLink node.
The special microphone audio loop-through circuitry on the RIGblaster Pro, as well as a fully implemented sound device (card) with MIC-IN, LINE-IN & LINE-OUT jacks are required.
Our other model RIGblasters can be used to set up your own node but you will only be able to access it with a separate radio (e.g. your HT).
Do I need a serial port?
These days most computers have no serial port available so most of our current line of RIGblasters have been designed for USB.
The RIGblaster Pro and RIGblaster Nomic are our only models which have a serial DB-9 style connector.
We supply USB to RS-232C DB-9 adapter cables with these units so they can be operated either from a real serial port or a USB port.
Can I use my laptop/netbook computer?
Yes, most laptops are quite suitable for our RIGblaster range, as long as they have sound they will work.
The only difference with a laptop is they usually do not have line inputs so you have to use the microphone input. The line output is usually referred to as "headphone". Unfortunately some netbooks only have a single 4 pin audio jack. You would most likely need a "Y splitter cable" to bring the audio signals out to stereo jack sockets before you could hook up many of our RIGblasters.
The RIGblaster Advantage contains a USB "sound card" so even if your laptop/netbook has no sound, or you do not have a splitter cable this would be a perfect choice.
Do I need a sound card inside my computer?
If your computer has sound and audio jacks then it will work with our entire range of RIGblasters including the RIGblaster Advantage (with built-in USB sound).
For computers with no sound (rarely seen these days), our RIGblaster Advantage is the correct choice.
Your computer must have the Windows, Mac OS or Linux sound card driver software properly installed for your computer hardware.
Can I record voice keying files from my radio microphone?
Only the RIGblaster Pro allows recording via your radio microphone.
You will also require a sound card/sound device which has LINE IN,LINE OUT and MIC IN jacks.
Our other model RIGblasters can play pre-recorded voice wave files, for instance in N1MM Logger, but you will need a computer microphone to record them.
What software works with a RIGblaster?
Any software that uses a sound card for transmit. If the software controls PTT via a serial port or is controlled via a serial port that will work the PTT also, check the software features.
How does the RIGblaster control PTT?
The Nomic and Plug & Play use an optoisolator to control the PTT of a solid state radio.
The other RIGblasters uses an relay contacts to keys PTT, even tube rigs should work.
The microphone PTT button also controls the relays. Most digital mode software is able to control PTT via the serial port's RTS or DTR lines. You will have automatic PTT control and automatic audio switching.
The RIGblaster Advantage, in addition to serial port PTT, contains its own VOX circuitry which will trigger the radio's PTT line when it "hears" an audio signal.
Can I use my Morse key with a RIGblaster?
Many people want to be able to use computer generated Morse Code but also have the facility to jump on the hand key or paddles when in QSO.
All RIGblaster CW keying jacks can be paralleled with a hand key or electronic keyer output with a simple stereo 3.5mm double adapter or "Y cable". The keying circuit within the RIGblaster is either an open-collector or optoisolator output which will not suffer damage from being "shorted".
Very important: This method will not work with tube rigs that use grid-block or cathode keying. You will destroy your RIGblaster if you attempt to do this on these older radios!
Similarly, if using an electronic keyer make sure it is designed to work with modern solid-state radios with a "pull-to-ground" output.
Is there a model for my country with 220/200 volt or can I operate with 12V DC?
Most of our RIGblasters are now powered from the USB jack on your computer so this isn't an issue for them.
The RIGblaster Pro can be ordered in 120VAC, 230VAC and 12V DC models.
Do not order a 12 Volt without reading our 12 VDC operating precautions.
The 12 Volt model is a is exactly the same as the other models except that it comes only with a DC cord. We offer a 12 Volt version only to save on international shipping. The 120 VAC models have a 120 VAC to 12 VDC wall power supply with a standard US plug. The 230VAC models have a 230 VAC to 12 VDC wall power supply with a European style plug, we do not offer other plugs.
What about Pactor?
Any version of Pactor (arq mode) is not realistically possible with any model RIGblaster (or any other sound-card based interface) on a Windows platform.
This is mostly due to timing issues within Windows but also because Pactor II & III are proprietary modes belonging to Spezielle Communications Systeme GmbH & Co. KG (SCS) who implement it on their own range of data-modems.
Since the advent of WinMOR and the RMS Express software, radio e-mail using the Winlink 2000 system can be realized very successfully using a RIGblaster and can achieve speeds in-excess of Pactor-II on good circuits.
NB. Pactor-1 (fec mode) is possible in certain software but has limited use.
Why won't the green power LED illuminate on my Plug & Play?
Unfortunately, many times the Windows' default drivers do not work properly, so we recommend that you unplug the Plug & Play and download the latest drivers from
http://www.westmountainradio.com/content.php?page=supportpp#windows
After installing the latest drivers, please reconnect your Plug & Play to your PC and the green power LED should now be illuminated.
How do I configure full break-in CW on the RIGblaster Advantage?
There are two methods of achieving this on the RIGblaster Advantage.
If you are using serial port keying then you simply have to unplug the mic cable (otherwise PTT may be held active) and set your radio for full break-in operation in the CW mode.
Some software programs don't do a very good job of serial port keying under Windows. This isn't really the program's fault but more to do with timing issues within Windows so the preferred method is to configure your software for audio tone CW (MCW) and use the Advantage in VOX mode.
The RIGblaster Advantage has been designed with a special VOX circuit which logical OR's the DTR (keying) and RTS (ptt) circuits. You still have to unplug the mic cable to prevent PTT being held active, but you will find your generated Morse much more accurate.
Here's the method outlined for use with the MRP40 software:
1. Configure MRP40 for sound-card TX only.
2. Put RIGblaster Advantage into "VOX" position.
3. Set VOX delay to minimum.
4. Put radio into CW mode full break-in.
5. Remove "mic" cable from Advantage (or PTT will be held active).
6. Make sure you have a stereo 3.5mm cable from the CW keying jack on the Advantage to the CW keying jack on your radio.
MRP40 can be downloaded from
http://www.polar-electric.com/Morse/MRP40-EN/
This method also works with other software including FLdigi (
http://www.w1hkj.com/Fldigi.html
), MultiPSK (
http://f6cte.free.fr/index_anglais.htm
), MixW (
http://mixw.net/
) and DM780 (
http://dm780.ham-radio-deluxe.com/
).
How do I install the software driver for the USB to Serial RS-232C adapter cable?
On most newer computers with Windows 7 you won't have to do this at all as Windows will silently install the adapter cable driver in the background.
On Windows XP and earlier the following procedure outlines how to install the software drivers necessary for the USB cable hardware to communicate with a Windows PC. (Mac and Linux drivers are available on the DVD)
It is recommended to run the driver before installation from the DVD AND before ever plugging in the USB cable. By using the the pre-installation program, and then plugging in the USB cable to the PC, will allow Windows® "Found New Hardware®" "Plug and Play Wizard®" to automatically install the driver.
WARNING: Be sure to complete all prompted screens (as many as 13). If the driver installation is aborted or not completed, the install will fail. It is very difficult to fix a canceled, incomplete, aborted or discontinued installation and may result in the unit to not perform through the USB port.
Insert the West Mountain Radio DVD into the DVD drive.
Plug in the USB cable to an available USB port on the PC. (Ideally a port that will stay available for this application)
A "New hardware found" Windows Plug & Play Wizard window should pop up. Complete all screens as prompted.
Why does my radio go into transmit while Linux is booting?
This appears to be a bug in recent Linux distributions e.g. Ubuntu.
There is further information on resolving this problem here:
https://bugzilla.redhat.com/show_bug.cgi?id=771010
and here (specifically for the RIGblaster Plug & Play in Ubuntu):
http://ubuntuforums.org/showthread.php?s=4cbf57a7b8ed134b7d858b157061c4f3&p=9793586#post9793586
SETTING AND TESTING RECEIVE AUDIO
Read this QST article first: "The In's and Out's of a Sound Card"
http://www.westmountainradio.com/pdf/Ins&Outs.pdf
Reprinted from October 2003 QST,with permission of the ARRL
If you are having trouble receiving, completely disconnect the RIGblaster and put it back in the box. The RIGblaster has nothing to do with receive. It is only for transmit. If you think it has something to do with receive you probably have your cables connected wrong. Read the documentation that comes with the ham sound card software and read the Windows help files regarding setting up and using multimedia sound. Please do not call or e-mail us at West Mountain Radio with software questions, we have nothing to do with the software or it's support. You should e-mail the software author if you can not get their program to work.The most direct way to solve a software problem is to try an different program from a different author. If several programs do not work on receive you may have your receive audio cables hooked up wrong, or you have a problem with your sound card setup or installation. Refer to the sound card control panel diagram below for a little help. This is a typical diagram, yours may differ. If you are using a laptop you probably have to use the computer's microphone input and you must adjust the microphone virtual slider for receive not the line input virtual slider. Don't forget the obvious: you should hear signals if you expect to copy any; the bands may be dead or your antenna isn't working.
You can have receive hum or noise problems interfering with the receive. You must use the speaker output of your radio plugged in to the line input of your computer. If you use a low level audio output of radio and especially the mic input on your sound card you may need an audio isolation transformer for receiving. If you have your computer plugged in to a different branch of the AC wiring in your house you can expect problems. Plug your computer in to the same AC outlet strip so it is grounded together with your radio.
Note: for VOX activated transmit instead of serial PTT activation you must mute the receive audio input (see sound card playback control panel diagram below) to prevent receive audio from coming out of the sound card and triggering the VOX.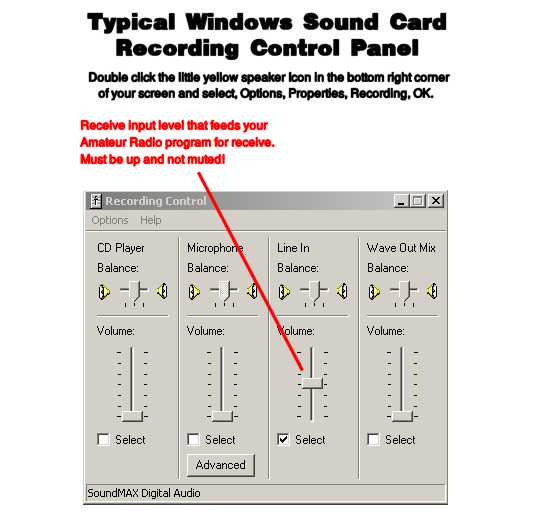 VOX CONTROL
Unlike our other RIGblasters your Plug & Play always has the computer audio connected to the data or aux jack. We do not recommend VOX operation with RIGblaster Plug & Play for several reasons. Even if your radio supports VOX operation through the radio's data or aux jack you do not need to use it. Since all ham radio sound card programs, without exception, support PTT control through a RS232 serial port and that the Plug & Play includes a USB to RS232 port converter there is no reason to use VOX. Using VOX will only allow your radio to transmit illegal signals whenever Windows plays a melody or beep tone.
THE COMPUTER WILL NOT ACTIVATE TRANSMIT.
Assuming your RIGblaster is connected to your computer's serial port and the RIGblaster is properly jumpered and connected to your radio's mic. jack, you must do the computer boot up test described in the manual. Turn on your computer and boot up Windows, (or most other operating systems) Windows tests the serial ports during boot up and you should see your rig key up (PTT activation) momentarily at least once during boot up and then go back off after Windows finishes loading. If this happens you then can be sure that your computer, serial cable and RIGblaster are connected and working properly.
If after doing the boot up test successfully you find your ham software will not key up your rig (PTT activation) you can be sure it must be a software setup or operating problem, it cannot be a hardware problem. It is usually a setup problem, 7 out of 10 support calls from customers are due to software PTT control setup problems. Make sure that you have gone in to your software setup (configuration, settings, preferences) or whatever it is called and "tell" the program what serial (COM) port that you have the RIGblaster connected to. You also must "tell" the program that you wish that PTT is activated by DTR and/or RTS. YOU MUST DO THIS if you expect the program to transmit with automatic serial control via the RIGblaster or any other interface.
The proper cable is a standard serial extension cable. Wiring as follows:
SERIAL EXTERNAL MODEM CABLE WIRING
DB9F----------DB9M
1---------------------1
2---------------------2
3---------------------3
4---------------------4
5---------------------5
6---------------------6
7---------------------7
8---------------------8
9---------------------9
shell--shield--shell
NOTE: THIS ONLY APPLIES TO OUR NOMIC MODEL RIGBLASTER!
If your Nomic model RIGblaster will not key PTT during the boot up test check the value of resistor "R1", it should be 680 ohms (blue, gray, brown). If it is 3000 ohms (orange, black, red), change it to 680 ohms. Contact us if you would like us to change it for you. We found that some computers have low, non-standard serial voltage levels (especially laptops) and we changed this resistor to accommodate that fact.
What is RIG Control?
We recently announced a new product called RIGtalk. It is best described as the USB version of the Icom CT-17 Serial Interface.
However, we have had several inqueries to our help desk about the function provided by RIGtalk compared to RIGblaster. It is true both are "Radio to Computer Interfaces" but there are major differences in the functon they provide to a ham station. Simply stated, a RIGtalk enables the Amateur Radio function of "Rig Control" and a RIGblaster enables "Sound card applications" and (depending on model) "Rig Control" also. Rig Control sends frequency, band, mode and other operational data between the radio and the computer. Soundcard Applications are modes like PSK, SSTV and RTTY which require, (1) an interface for audio between the radio and the computer soundcard and (2) a serial interface to provide PTT, CW and FSK keying. The rig control interface between radio and computer is always a serial data path between a serial port on a computer and a jack on a radio labeled with various tags depending on the manufacturer. For example most Icom radios label the jack "REMOTE", Yaesu calls it "CAT", and Kenwood calls it "COM" for RS-232 or "ACC" for TTL.
RIGtalk emulates a serial port to the computer software while connecting to a USB port of the computer. As with many USB devices, drivers are first installed, then RIGtalk is plugged in and Windows completes the installation. This is especially beneficial for newer computers that do not have real serial ports.
RIGtalk is a natural for Icom and TenTec transcievers. And because RIGtalk is a TTL level interface, it also works well with many Yaesu radios that make use of a TTL CAT Interface.
The difference between the Icom and the Yaesu implementation is that Icom ties transmit and receive lines together onto a single conductor. Yaesu uses two conductors, one for transmit and one for receive. We accomodate that difference by simply using different cables which basically define different models of RIGtalk. Unfortunately very few Kenwood radios have a TTL level rig control interface and those that do use Negative TTL Logic. RIGtalk uses Positive TTL Logic. Thus we do not have RIGtalk models for Kenwood radios.
For Icom & TenTec, we use:

Note on the end that goes to the radio Transmit and Receive are tied together at the tip of the mini plug.
For Yaesu FT-100,100D,817,857,897, we use:

And for Yaesu FT-736/747/767/1000 we use:

As for software, when we think of "Rig Control" programs we think of programs in the following catagories:
Logging Software
WriteLog
N1MM Logger
WinEQF
VHFLog
TR Log
DXbase
DX4WIN
N3FJP Suite of Logging progrems
Local & Remote Control Software
Ham Radio Deluxe
TRX Manager
DX Beacon Software
BeaconSee
Much of this software is supplied on the DVD that ships with every RIGtalk and most has been tested with RIGtalk. As always however for the latest version of any Amateur Radio Software we suggest visiting the web site of the author.
Most of these web sites have links from the Links Page of our Web Site:
http://www.westmountainradio.com/content.php?page=links