Amateur Radio Products made by and for Amateur Radio Operators

West Mountain Radio News - Spring 2002 Edition
RIGrunner Introducing the "Smaller Ones", 4005 & 4008
RIGblaster Using an M8 or a Plus with an RJ45 Radio
RIGblaster another exciting new VHF DX mode!
Dayton - May 17 - 19, 2002 - Visit Us at Booth 330
May, 2002
---
RIGrunner - Smaller Models, 4005 and 4008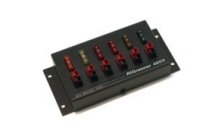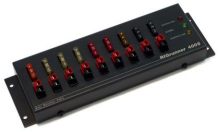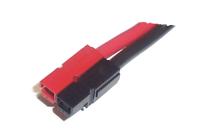 The RIGrunner Intelligent DC Power Distribution Panel is now available in smaller models.

RIGrunner 4005 is a 5 outlet version without the Power Monitoring System and is ideal for mobile installations. It is rated at 40A ICAS through 5 individual outlets each with a fuse and an LED blown fuse indicator.

RIGrunner 4008 is an 8 outlet version with the Power Monitoring System and is ideal for installations where 12 outlets of the larger 4012 are not required. It is also rated at 40A ICAS through 8 individual outlets, each with a fuse and an LED blown fuse indicator.

The outlets on these RIGrunners are Anderson Powerpole® color keyed, polarized, insulated, unisex connectors. Powerpole® connectors conform to the recommended standard of ARES, RACES and RSGB. Each outlet is RF bypassed, short circuit and overload protected, and polarity proof. The Precision Expanded Scale Power Monitoring System of the Model 4008 includes LEDs and an audible alert for high power supply voltage or low battery voltage conditions.
Powerpole® is a registered trademark of Anderson Power Products
---
RIGblaster - Using the Plus or M8 on a Radio with an RJ45 Mic Connector
Using an 8-pin screw-on RIGblaster M8 or Plus with a Modular mic connector radio using standard cables (No Adapters, No Mods).
We have developed a simple way to use your 8 pin screw on RIGblaster with a Modular radio.
You simply plug your Modular mic. into the back of the RIGblaster ("MIC OUT") and plug the cable that comes with the RIGblaster into the front 8 pin screw on connector. The other end of this cable goes to your radio's Modular mic. jack.
The trick is you MUST crisscross the mic and PTT wires on our jumper pins. See the M8 and Plus support pages of our Web Site for all the "CRISSCROSS" jumper diagrams.
---
RIGblaster - another exciting new VHF DX mode!
WSJT - "Weak Signal communications, by K1JT" in version 1 revolutionized VHF weak signal meteor scatter communication. Now Joe has done it again with another new mode called JT44.

His program now supports two digital signaling modes, FSK441, which supports communication using the very brief "pings" from meteor trails and the new JT44 mode, which is designed for extremely weak signal communication such as those found on troposcatter, ionoscatter, and Earth-Moon-Earth (EME). Both provide very significant improvements in sensitivity over traditional CW making it possible for smaller stations and non-CW operators to enjoy this operation.

Anyone with a RIGblaster a VHF all mode radio and an outdoor antenna can work meteor scatter 24/7; EME with only 100 watts and a single medium sized beam antenna.

"This is my favorite use for my RIGblaster." says Del/K1UHF.

Joe deserves a big thanks for this exciting new free software. The best way to thank him is to fire up your RIGblaster with WSJT and give Joe a new VHF DX contact!

Be sure to check our OpTips page for more details and links.
---
Visit our web site frequently at www.westmountainradio.com, to see all our Amateur Radio Products.
73 from the Hams at West Mountain Radio
Dan, N1ZZ Del, K1UHF Ned, KA1CVV John, N1OLO Ed, K3EIN
If you do not wish to receive future mailings from West Mountain Radio, please reply to this note and change the Subject line to REMOVE FROM EMAIL LIST.
---
Copyright © 2002 by West Mountain Radio, An Optimaudio, Inc. Company.