Amateur Radio Products made by and for Amateur Radio Operators

West Mountain Radio News
Home of RIGblaster & RIGrunner
June, 2004 - Are You Ready for
FIELD DAY?
---
Most popular Field Day Logging Programs incorporate CW Keyers and Voice Keyers which will also enhance your FIELD DAY score. RIGblaster pro, Plus and M8 are ideal Radio to Computer Interface units to facilitate these functions. Note RIGblaster M8 has been reduced from $109.95 to $89.95 making it, now more than ever, a great buy.
PSK31 is becoming a very popular mode for FIELD DAY. Remember those PSK31 contacts are Digital contacts and Digital contacts count two points each whereas Phone contacts count as only one point each. Even the special FIELD DAY bulletin is transmitted by W1AW in PSK31.
RIGblaster nomic is an ideal Radio to Computer Interface for a Dedicated PSK31 FIELD DAY Station. It requires no power and takes up very little space.
---
PWRcrimp Powerpole® Crimp Tool: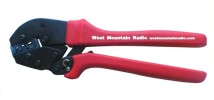 $49.95
This New tool from West Mountain Radio will help make sure ALL your FIELD DAY Stations are equipped with properly installed Anderson® Powerpole® connectors allowing for quick setup, tear down and emergency swap outs (if necessary).
High performance Powerpole® crimp tool for a reasonable price.
Crimps all three sizes of Powerpole® contacts; 15, 30 and 45 amp.
Ratcheted mechanism assures proper crimps every time.
Contact positioner holds contacts correctly while crimping.
Far faster and better than soldering.
The highest strength and the lowest resistance connections possible.
Long high leverage handle makes even 45 amp 10 gauge crimps easy.
---
PWRgate PG40:

$59.95
The PWRgate PG40 safely connects both a Power Supply and a Battery to your FIELD DAY Station insuring you will not miss anything or loose your working frequency while the generator is being refueled.
The PWRgate PG40 is rated at 40 Amperes, adequate for most FIELD DAY Stations.
---
Batteries
Sealed Lead Acid AGM
$119.95
Gelled Electrolyte
$139.95
Sealed lead acid batteries in both Gelled Electrolyte and AGM (absorbed glass matt) types, perfect for FIELD DAY fail safe operation. Maintenance Free so they will be ready for FIELD DAY 2005.
One standard size, group 24, (6 3/4" wide x 10 7/8" long x 9 7/8" high) in both Gelled and AGM types.
Will run a FIELD DAY Station much longer than it takes to refuel the generator.
When used with a PWRgate PG40, will provide "Seamless" cut over both when the generator goes OFF and when it comes back ON.
Only available in the continental 48 states with FREE FedEx shipping direct from the manufacturer.
---
DCtoGO - Battery Box with RIGrunner

$114.95
Perfect for Class A Battery or Class B Battery FIELD DAY Operations.
Takes a Group 24 Battery like our Gelled or AGM Batteries above.
---
Battery Fuse & Terminal Kit

$7.95
This kit is designed to provide fuse protection to the positive lead from a Battery or Power Supply so that everything you bring to FIELD DAY goes home in operational condition.
It consists of:
(1) ATC Water Resistant In-Line Fuse Holder
(2) ATC Fuses, 20A & 40A
(1) 3/8" Ring Terminal (Positive) for 10-12 AWG Wire
(1) 5/16" Ring Terminal (Negative) for 10-12 AWG Wire
---
More Information & OnLine Ordering at www.westmountainradio.com
We also answer questions and take orders by phone at 203.853.8080
73 and GL at FD from the Hams at West Mountain Radio, 18 Sheehan Ave., Norwalk, CT 06854
Dan, N1ZZ Del, K1UHF Ned, KA1CVV John, N1OLO Ed, K3EIN
(Look for us on FIELD DAY at N1EV, the Greater Norwalk Amateur Radio Club)
---
West Mountain Radio's statement regarding SPAM
West Mountain Radio is 100% behind the CAN-SPAM Act of 2003. CAN-SPAM is an opt-out law. For us, permission of the e-mail recipient is not required, but if the recipient wants to unsubscribe or opt-out, we have to stop sending e-mails to that recipient. We are in complete compliance with the CAN-SPAM Act of 2003 by insuring that;
- the Subject of our EMail is not Deceptive, the Message Header is in no way forged and the From Address is our Valid Working EMail Address.
- our recipient EMail addresses have not been harvested from web sites.
- we have a working unsubscribe system making it easy for recipients to unsubscribe (opt-out).
- we have included our postal mailing address in this message.
- we have implemented a confirmed opt-in system.
If you do not wish to receive future mailings from West Mountain Radio, please reply to this note and change the Subject line to REMOVE FROM EMAIL LIST.
---
Copyright © 2004 by West Mountain Radio