Amateur Radio Products made by and for Amateur Radio Operators

West Mountain Radio News
Home of RIGblaster & RIGrunner
August, 2003
---
Announcing: RIGrunner 4010S: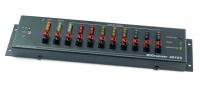 NEW! Automatic on/off
A RIGrunner is the most convenient and safest way to connect all your 12 VDC equipment to a power source. It is a 13.8 VDC power panel that uses the excellent Anderson Powerpole® connectors. Standardize all of your 12 VDC connections using the amateur radio ARES & RACES, RSGB, ARRL Powerpole® system.
The New RIGrunner 4010S has one always on "Master" outlet and 9 automatically or manually controlled switched outlets. Plug your main radio into the master outlet, turn it ON or OFF to automatically control the other nine 40A (max) switched outlets. The switching is done with a 100A solid state automatic FET switch with temperature and over current protection. There are no switches to arc or burnout. The FET switch, in its on condition, has less than .005 ohms resistance. It has our unambiguous precision overvoltage and under voltage indicators. An audio alert is selectable for over and/or under voltage or may be disabled.
---
New RIGrunner Accessories:
Whatt Meter

A favorite of electric powered aircraft & battlebot builders is now available for hams using Powerpole®.
The Whattmeter is designed to make voltage, amperage and power measurement easy and fast.
Simultaneously reads Volts, Amps, Watts and Amp/hrs, fully automatic.
These new meters take the guesswork out of power measurement.
Rugged and easy to use, just plug it in to any Powerpole® circuit.
Makes it easy to read power consumption and battery capacity.
Accurately reads up to 75 amps!
Now you can stop guessing and start making informed decisions

| Dimensions H,W,D | 2.25" X 4.25" X .938" | Pigtail with Powerpole® | 2.5" min |
| --- | --- | --- | --- |
| Maximum Voltage | 80 volts | Minimum Voltage | 4 volts |
| Maximum Amps | 80 amps | Current resolution | 100 milliamps |
| Voltage resolution | 10 mv | Max Watts | 6,400 watts |
| Watts resolution | 0.1 watt | Max A/hr | 99.9 amp hours |
| ma hour resolution | 10 ma hours | Connectors | Powerpole® |

RIGrunner/Powerpole® Accessories from Quick Silver Radio Products

Powerpole® connectors adapting to the following connector types:

| HF Radio Fused 6-Pole Connector | FT-817 Plug | ICOM/Kenwood HT Plug |
| --- | --- | --- |
| FM Mobile Fused "T-style" Connector | FT-817 & LDG Z-11 Tuner | Gel Cell Connectors |
| 5.5 x 2.5 mm Jack & Plug | 5.5 x 2.1mm Jack & Plug | Y Connector |
| Cigarette Lighter Receptacle | Fused Cigarette Lighter Plug | Large Alligator Clips |

See our Web Site where you can get more detail and see pictures of each of these adapter cables.

Powerpole® is a registered trademark of Anderson Power Products
---
New RIGblaster Accessories:
New Optional Cables

ICOM 13 pin DIN - Fixed Level Audio/FSK Cable (IC-706 & IC-703)
Yaesu FT-1000 4 pin DIN Fixed Level Audio/FSK Cable (FT-1000)
Kenwood 13 pin DIN - Fixed Level Audio/FSK Cable (TS-570 & TS-2000)

See our Web Site where you can get more detail and see pictures of each of these new RIGblaster Accessories.
---
OnLine Ordering at www.westmountainradio.com
We also take orders by phone at 203.853.8080
73 from the Hams at West Mountain Radio
Dan, N1ZZ Del, K1UHF Ned, KA1CVV John, N1OLO Ed, K3EIN
If you do not wish to receive future mailings from West Mountain Radio, please reply to this note and change the Subject line to REMOVE FROM EMAIL LIST.
---
Copyright © 2003 by West Mountain Radio, An Optimaudio, Inc. Company.