West Mountain Radio Raises the Bar with Improved CLRspkr DSP Noise Reduction Speaker
New and improved for 2011, the CLRspkr has been enhanced to increase its performance and ease of use.
Enhancements include:
More powerful 10W internal speaker for higher volume with reduced distortion
Continuously variable adaptive noise reduction, 0db to -17db
Easy access volume control knob
External speaker/headphone jack moved to front panel for added convenience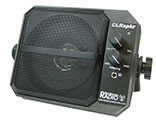 West Mountain Radio Introduces Powerful Monitoring Tool for DC Power Systems
Introducing PWRcheck, an integrated DC power analyzer, watt meter and electricity monitor. PWRcheck enables amateur radio enthusiasts, emergency service providers and site operators to assess load requirements and monitor the status and health of their DC power supply systems.
Capabilities include:
Handles 13 display modes, updated in real-time
Visual alarm with programmable limits for current, voltage, wattage and amp-hours
Gas gauge type display for monitoring the charge in back-up battery
High-side monitoring simplifies installation, no need to break ground or return path to power sources - ideal for vehicle use
Stores up to 70,000 points for historical data logging, over 1000 hours worth
Included PC software supports real time monitoring, data download and charting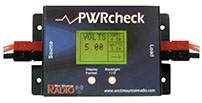 Using RIGblaster with Ham Radio Deluxe
Ham Radio Deluxe (HRD) is a free, sophisticated package of software tools for Amateur radio operators, including software packages for radio control, contact logging, mapping and assorted digital operating modes such as PSK. A common issue with RIGblaster customers is attempting to use HRD at same time as Digital Master 780 (DM780). Click here to continue reading.

New RIGblaster Advantage Sound Card and Rig Control Interface from West Mountain Radio
The RIGblaster Advantage is West Mountain Radio's newest sound card and rig control interface. It features a simplified PC interface and expanded rig control radio compatibility, accomplished without compromising the functionality and flexibility that the RIGblaster products are known for. This new addition to the RIGblaster product line incorporates several user requested enhancements:
Internal sound card
Single plug and play USB cable connection to PC for audio, rig control and power
Rig control interface for CAT/CI-V as well as RS232 through a DB9 port
Front panel mounted transmit power level, receive audio level and VOX delay adjustment knobs


In this Issue
Upcoming Events
Charlotte Hamfest
March 12-13, 2011
Concord, NC
Dayton Hamvention
May 20-22, 2011
Dayton, OH
West Mountain Radio has plans to enhance, update and improve many of the existing products and software. If you have ideas or suggestions, we would love to hear from you.