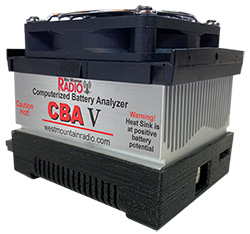 CBA V - Computerized Battery Analyzer
#58250-1852
$189.95
Click for Details
CBA V unit
6 inch pigtail adapter
Standard version CBA software on USB flash drive
6 ft USB Cable
40 amp fuse
User Manual
CBA V Pro - Computerized Battery Analyzer
#58250-1853
$229.95
Click for Details
Same as CBA V plus:
Remote Sensing Cable
Calibration data
CBA V Pro 100V - Computerized Battery Analyzer
#58250-1854
$249.95
Click for Details
Same as CBA V plus:
Remote Sensing Cable
Calibration data

Pro Unit Model
Calibrated and tested to accuracy levels of < 1% Amp load

< 0.5% volts

Included calibration chart
One free unit calibration
* Improvement/Enhancement on CBA V
Capabilities
Scientifically Analyze Battery Performance
True constant current battery capacity test with results graphically displayed, constant power testing supported with Extended software upgrade
Discharge current is software and electronically regulated using a solid state switch and fan cooled electronic load
Test any type of battery; coin cell to automotive or larger. Presets for NiCad, NiMH, Lead Acid, Li Ion, Li Poly, Alkaline, Carbon Zinc, Mercury etc.
Lower current testing capabilities - down to 10 mA
Multiple discharge tests can use Watts as a parameter (CBA II/CBA III only allows current)
Perform Fast, High Power Testing
Tests quickly at real world load conditions, up to 150 watts or 40 amps maximum, whichever is higher
High voltage testing at up to 55 volts (CBA II/CBA III is only 48V); the equivalent of 1 to 38 NiCad or NiMh cells
Perform power profile test (increase current at user's rate to see how voltage/power responds), useful for testing max power output of a power supply or solar cell
Optional 500 watt and 1000 watt amplifiers
Accuracy and Precision for Demanding Applications
Remote voltage sensing for higher testing accuracy

*

On-board computer performs accurate measurement with 12 bit effective resolution. Auto ranging for 2 current ranges and three voltages
Each CBA is individually calibrated with a computerized calibration system
Calibration certification data provided with CBA V Pro
SDK for developing your own scripts or programming
TTL UART port that can be controlled by an Arduino, Raspberry PI, or other embedded system with a TTL serial port
Built-in Safety Features Provide Superior Battery Protection
Improved cooling system allowing higher continuous loads for testing

*

Additional LED status indications

*

Fuse blown LED and easy to change fuses

*

Fail safe: automatic protection of temperature, current and power
Safety watchdog stops a discharge in the event of a computer crash
Discharge test current user selectable from 0 to 40 Amps
Timed discharge test (stop discharge once certain Ah has been reached)
Dynamic test (alter test current using panel on the side of the software, without having to stop and start a new test)
Automatic voltage shut off at end of test using a software recommended or user selected safe discharge voltage
Automatic over-temperature shut off at end of test at using a software recommended or user selected maximum temperature with optional external magnetic temperature sensor
Free Standard Software for Data Analysis
User selected battery cell chemistry, number of cells and test current
Software recommends safe tests based on user supplied battery information
Automatic graph setup and scaling
Measures and displays voltage, current, amp-hrs, and watts
User can set the criteria for "Easy-Go/No-Go" testing
Easy overlay comparisons of multiple graphs may be displayed saved and recalled
Save, display and print battery test graphs and battery labels
Plug and Play high speed USB interface, with easy to use and intuitive Windows® software supplied on USB flash drive
Manage individual tests on any number of CBA V units connected to the same PC
Software has no limit on number of CBA Vs that can be attached (CBA II/CBA III required multiple unit license)
Extended Software Upgrade License Unlocks Features for Serious Battery Testing (click here for details)
Please click here for more information on Powerpole® Connectors.
Specifications
* Improvement/Enhancement on CBA V
Maximum continuous discharge (at ambient 75°F)

*

1.5V: 60W
3V: 80W
6V: 120W
9V & up: 150W
Short term maximum discharge

*

200W
Example: 12V / 200W 1 minute max
Discharge current range
0.01A to 40A
Current Accuracy

Typical
Max
Standard CBA V
0.01A-1.5A
+/-25ma
+/-75ma
1.5-40A
+/-2%
+/-5%
CBA V Pro
0.01A-1.5A
+/-3ma
+/-7ma
1.5-40A
+/-0.5%
+/-1%

Current Rise/Fall Time
<300 ms
Voltage Accuracy
At CBA V connector: +/-1%
Remote sense cable: +/-1%
Voltage range for battery under test

*

CBA V & CBA V Pro: 1V to 57V
CBA V Pro 100: 1V to 100V
Sample rate
Standard software: 1 second
Extended software: 50ms to 10 minutes
Residual current drain while battery is connected and not testing
Rough estimate: Current in ma = 0.27*Voltage - 0.25
For example 2.99ma at 12V
Maximum temperature for a full load
Ambient: 75°F
Heat Sink: 140°F
Internal: 205°F
PC
Windows 32 or 64 bit OS
4 GB memory minimum, 8 GB or more recommended
USB port with full power (500ma)
Dimensions
3.5" H x 2.8" W x 3.6" D
Weight
16 oz.
High performance micro controller with built in USB interface and 12 bit A/D conversion.
USB powered; the CBA does not use the battery being tested to run the CBA or the fan.
System ready and Test in progress LED indicators, viewable from across a room.
CBA internal over temperature sensing and protection.
Graph printing on any standard color or B&W printer.
Battery test label printing on standard 05160 stick-on labels.
Quality Declaration
Product designed, tested and used by ham radio operators onsite.
Includes
CBA V
CBA V unit
Standard version CBA software on USB flash drive
6 ft USB Cable
40 amp fuse
User Manual
CBA V Pro / CBA V Pro 100V
Same as CBA V plus:
Powerpole® Connector Features & Benefits
Genderless Housings: Provide simplified assembly and minimize the number of components
Stackable Modular Housings: Available in four sizes to right size your connection need
Connection Versatility: Contacts for wire, PCB, or busbar all fit into the same housings
Low Resistance Connection: Silver or tin plated contacts inside housings that strongly force the contacts together
Color Coded Housings: Help ensure that connectors are assembled and mated correctly
Self Securing Design: Stainless steel springs create a robust force between the contacts that holds the connector in the mated condition, but allows it to be quickly disconnected.
Anderson Powerpole® Connectors and General Installation Tips
Powerpole® Connectors
15A
30A
45A
Amps (UL) Per Pole
0 to 55
0 to 55
0 to 55
Volts (UL) Per Pole
600
600
600
Amps Continuous
15
30
45
Wire Gauge (AWG)
20 - 16
16 - 12
14 - 10
Touchsafe
Polarized Housing
Yes
Yes
Yes
Yes
Yes
Yes
PDF Files
Links
Data Sheet
https://www.andersonpower.com/
Buy Powerpole® Pack
View Options