New Ownership of West Mountain Radio Brings Added Value to our Customers
We're delighted to announce that West Mountain Radio, formerly owned by Optim Engineering, is now a wholly owned subsidiary of Custom Computer Services, Inc. (CCS, Inc.). We are very excited to be a part of this well renowned company and believe CCS will bring added value to our customers.
Your ability to order and receive West Mountain Radio products will not be affected at all. All of the West Mountain Radio product lines you are familiar with will continue to be sold at the same prices and carry the same product warranties...and of course, existing warranties will be honored.

New RIGblaster Plus II Available Now
The RIGblaster Plus II sound card interface combines the easy to use RIGblaster Plug & Play with the features and functionality of the RIGblaster Plus. This new addition to the RIGblaster product line incorporates several user requested enhancements:
Plug and play USB port for connection to PC and power
Instant Setup Connectors (ISCs) for microphone configuration
Front panel mounted transmit power level knob
CAT/CI-V rig control interface

Best of all, all of these features have been added without passing the cost along to West Mountain Radio customers.

Swap Keyers and Paddles Between Two Radios with the Flip of a Toggle Switch
West Mountain Radio is excited to announce the CWswitch, a two-radio CW selector switch that enables a rig's CW paddle and keyers to be swapped between two radios with the flip of a single toggle switch. The CWswitch selects which radio is keyed for use with break-in or semi-break-in transmit activation using:
CW paddles keying the radio's internal keyer
Straight keys or external keyers
Computer keyers

Priced at $59.95, this handy device enables CW operators to quickly switch between two radios without having to wire keys in parallel or move cables.

RIGblaster Plug & Play Troubles with Windows and New Hardware Devices?
Sometimes Microsoft makes it sound like there will be absolutely no troubles when adding new hardware or upgrading your Windows operating system; but we all know better! As more and more electronics are being connected to your PC, Windows has a more difficult time recognizing all new hardware. West Mountain Radio developed USB drivers for the RIGblaster Plug & Play, and has provided them to Microsoft. These drivers are also provided on the CD that is shipped with the RIGblaster Plug & Play. What do you as a customer need to do when you first purchase a RIGblaster or upgrade your Operating System to ensure that Plug & Play is recognized and the correct USB drivers are installed?
We have outlined some quick and easy installation tips to assist you in getting Windows to recognize the Plug & Play. Literally, we will look at three simple cases dealing with Windows 7, Vista and XP.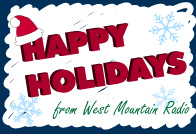 Upcoming Events
Waukesha Hamfest
January 8th, 2011
Waukesha, WI
Midwinter Hamfest
January 23rd, 2011
St. Charles, IL
Hamcation
February 11-13, 2011
Orlando, FL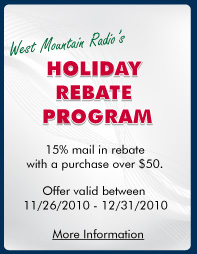 West Mountain Radio has plans to enhance, update and improve many of the existing products and software. If you have ideas or suggestions, we would love to hear from you.