Community Connection
Check here for the latest announcements from West Mountain Radio. Topics will include the most recent activities we have been involved with.
Upcoming Hamfests
| | | |
| --- | --- | --- |
| EAA | Oshkosh, WI | July 24-30, 2023 |


Submit Pictures of your Shack or Mobile Setup
Have pictures of your shack or mobile setup that you would like to submit to us? Fill out the form below to send us your pictures. Please indicate which of our products are in the pictures in the Comments. (Each picture must be in a JPG, GIF, or PNG format and must be under 1 MB in size.)
Note: You must have javascript enabled to use this form
IEEE Radio 2019
Miroslav Skoric
Article from the West Mountain Radio Quarter 4, 2019 Newsletter
The 7th edition of 2019 IEEE Radio and Antenna Days of the Indian Ocean (IEEE RADIO 2019), the international conference was held in Reunion Island (France) from Monday 23rd to Thursday 26th September 2019. I had a tutorial on amateur radio communications there, and this time I wanted to include even more practical demo and display than before. In that direction, I obtained a temporary French license for transmitting amateur radio signals and two special call-signs: TO0MPB and TO019IEEE. (TO0MPB was chosen to have a similar suffix as my original call-sign YT7MPB so to allow easier communication, while TO019IEEE was chosen to celebrate that IEEE event in 2019.)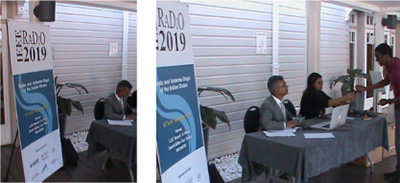 Conference registration desk
As usual, I wanted to announce my presence by using local APRS (Automatic Packet/Position Reporting System) networks. For that purpose, my equipment included RIGblaster Plug & Play. The initial setup included some HF equipment, kindly provided by local radio amateurs at Reunion Island. I intended to use it for BPSK31 mode, with RIGblaster Advantage.
Having in mind geographical configuration of surrounding terrain as well as the distance to the other islands in the area, it was not expected that APRS communication would reach many recipients, if any.


RIGblaster Plug & Play (left) and RIGblaster Advantage (right); The conference room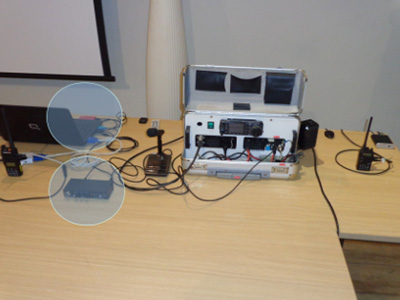 RIGblaster Plug & Play (top) and RIGblaster Advantage (bottom)


The equipment table in the conference room; Participants


Mounting HF 'Inverted-V' wire antenna; Opening ceremony


Invited speeches (followed by my tutorial session & demo)


The auditorium; The amateur radio session


RIGblaster Plug & Play and the APRS map were displayed all 4 conference days!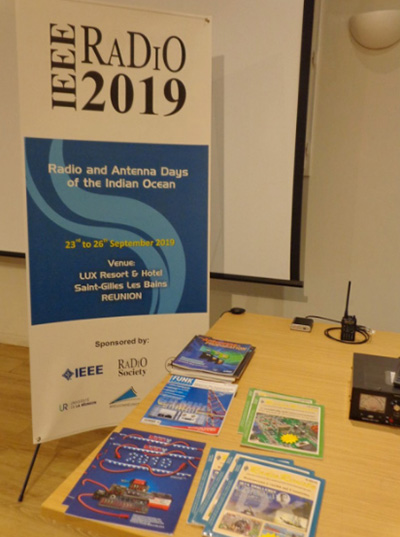 West Mountain Radio production (above) and RIGblaster Advantage (below) were promoted all 4 conference days!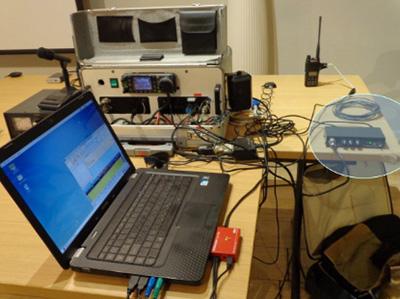 Participants showed interest in technical equipment
The West Mountain Radio RIGblaster Plug & Play performed very well and after more than 3 years of use now, it is still reliable. The RIGblaster Advantage was also excellent. Both interfaces were connected to the same laptop computer, so the operations could be done in parallel, simultaneously. Although local conditions (lack of developed APRS radio network on the island; absence of BPSK31 operators in that part of world) did not yield some spectacular results in radio contacts, the 4-day event gave a plenty of opportunities for spreading awareness on amateur radio among the academic & research audience, and to bring attention to the modern electronics designs for digital 'data' modes, including sound-card ones.
My next conference travel shall happen in December 2019 for a large engineering event in Goa, India, and for visiting universities and amateur radio groups in that country. West Mountain Radio products will also be proudly displayed there!
73,
Miroslav "Misko" Skoric
YT7MPB