Computerized Battery Analyzer (CBA)
The CBA is much more than a simple battery voltage tester or a battery load tester. Unlike a simple load tester the CBA will test virtually any type or size of battery, any chemistry, any number of cells up to 55V. For the first time and for a reasonable price, anyone can do scientific tests of their batteries by letting their computer do all the work. (more... About CBA)
Packaged Systems:

* Accuracy measured with a 10A test. Lower currents have less error.
** Accuracy measured with a 1A test.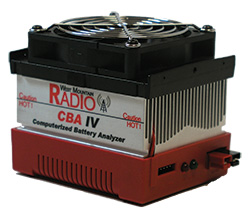 Use a PC to accurately test your battery
Easier to use software helps to determine batteries parameters such as actual AMP hours
Works with any battery type such as Lead Acid, Lithium-Ion or Alkaline
Overlay multiple test results to compare battery performance over lifetime
Generate labels for battery testing information, such as measured capacity
Ability to test power supplies with a constant load or characterize solar panels over various loads
Power supply testing
CBA III to IV improvements

Increased sensitivity to lower currents
Upgraded safety features
More software updates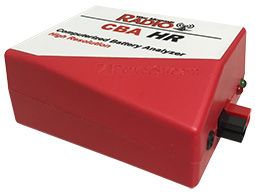 Specifically designed to test and evaluate small cells and batteries - those capable of supplying quite low discharge currents. Such small cells must be evaluated using even greater measurement precision than what is capable with CBA IV model. Designed to precisely test virtually any small size battery, any chemistry or number of cells, from 0.7 to 10 volts. The CBA HR is capable of testing batteries at load currents from 1mA to 1000mA, (10 watt maximum), in increments of 1mA.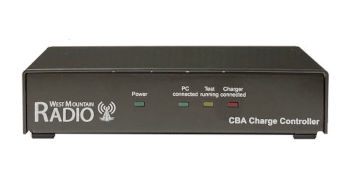 The West Mountain Radio CBA Charge Controller can be used with a West Mountain Radio CBA IV and a user provided battery charger to automate life cycle tests, automatically alternating between periods of charging the battery and discharging the battery. By automatically switching between charge and discharge cycles of the battery, a hands-free lifetime test of the battery can be performed.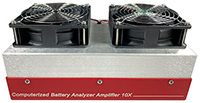 Test at 5 times the power with a CBA amplifier in between a CBA and your battery.
500 watt discharge with a single amplifier
1000 watt discharge with two amplifiers and harness
2000 watt discharge with four 20X* amplifiers and harness
Designed for commercial or industrial use
Test a Lithium cell at up to 120A / 500W with a single amplifier
Test a Nickel cell at 160A regulated down to .9V with a single amplifier
Test large batteries at high discharge rates
Test small batteries at or near their current and temperature limits
*20X amplifiers are a special order item.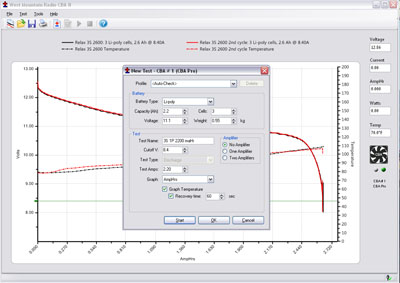 The CBA software is easy and intuitive to use. It provides automatic sensing of the battery cell count and recommends a safe maximum discharge current and minimum safe cutoff voltage for your batteries. The system of software and hardware is designed to protect both the CBA and the batteries that are tested.
Standard software free with unit
Allows for multiple unit testing
Extended software is an upgrade from standard
CBA Extended Software Upgrade License Unlocks Features for Serious Battery Testing
Multiple discharge tests, allow user to specify several different load points and duration of each load
Programmable automatic duty cycle test with up to 999 second on/off cycle periods
Regulated constant power discharge (current goes up as battery voltage drops)
Programmable constant resistance (current goes down as battery voltage drops)
Temperature graphing with a recovery time option*
Ragone power density charting using battery weight (used for performance comparison of energy sources charting energy density (Watt-Hours/kg) vs power density (W/kg))
Test-lead resistance voltage calibration utility to give higher accuracy voltage readings right at the battery terminals
Enables placement of user notes on graphs
* Requires optional temperature probe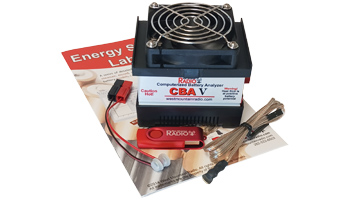 Today's renewable energy solutions rely on batteries. The Energy Science Lab Kit is an educational series of detailed electrical experiments to precisely measure, record, and compare performance of various battery models, capacities, and chemistries. Teachers are able to show students real-world battery performance investigations that are interesting and relevant to all students relying on portable electronic devices as part of their daily lives! Exercises show how to measure battery effectiveness and identify the limitations.
About CBA
The CBA is capable of higher test rates than other testers: up to 40A or 150W, which ever is higher. It not only tests the total amount of energy stored in a battery (capacity in amp-hours), but it graphically displays and charts voltage versus amp-hours.
Unlike a resistor load, it has an electronic constant current load that is controlled both with software and electronics. Constant power tests may be done with the Extended Software.
Graphs may be displayed, saved and printed. Multiple graphs of the same battery, or multiple batteries, may be compared or overlaid, a very useful feature. Battery tests may be printed on a color or black and white printer. You may also print convenient test labels to be placed directly on your batteries to remember the last time they were tested and how they performed.
A CBA will measure the temperature of a battery under test using the optional external temperature probe. The temperature probe will provide automatic over-temperature shutoff at a preset or user selected temperature limit. Battery temperature may be graphed with the Extended Software.
The CBA uses a high grade Powerpole® battery connector and comes with a 13 gauge pigtail lead for which adaptors may be made, or purchased as an accessory to connect a battery. A CBA is ruggedly built, compact and has a high performance cooling system with a quiet fan. LED indicators show test status from across a room.
The CBA uses an on-board microcontroller. Each CBA is computer calibrated for high accuracy. The electronic load uses a pulse width modulation system to control a pair of power MOS FET transistors using both electronic and software current regulation. The on-board microcontroller also provides the USB interface to the computer.
The software supplied with the CBA is easy and intuitive to use. It provides automatic sensing of the battery cell count and recommends a safe maximum discharge current and minimum safe cutoff voltage for your batteries. The system of software and hardware is designed to protect both the CBA and the batteries that are tested.
We think that you will find the CBA a useful and essential tool for anyone that depends on batteries in critical applications. You will learn new and valuable information about your batteries that cannot be determined any other way. Using batteries without a CBA is like driving a car without a gas gauge.
Please click here for more information on Powerpole® Connectors.
Powerpole® Connector Features & Benefits
Genderless Housings: Provide simplified assembly and minimize the number of components
Stackable Modular Housings: Available in four sizes to right size your connection need
Connection Versatility: Contacts for wire, PCB, or busbar all fit into the same housings
Low Resistance Connection: Silver or tin plated contacts inside housings that strongly force the contacts together
Color Coded Housings: Help ensure that connectors are assembled and mated correctly
Self Securing Design: Stainless steel springs create a robust force between the contacts that holds the connector in the mated condition, but allows it to be quickly disconnected.
Powerpole® Connectors
15A
30A
45A
Amps (UL) Per Pole
0 to 55
0 to 55
0 to 55
Volts (UL) Per Pole
600
600
600
Wire Gauge (AWG)
20 - 16
16 - 12
14 - 10
Touchsafe
Polarized Housing
Yes
Yes
Yes
Yes
Yes
Yes
PDF Files
Links
Data Sheet
http://www.andersonpower.com/
Buy Powerpole® Pack
View Options