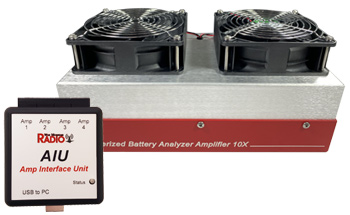 500 Watt System
#S-144
$949.90
Click for Details
Amp Interface Unit (AIU)
Extended Software Single Unit License
500 Watt Amplifier
AIU to PC USB Cable
Amp Power Supply Cable
(4) AIU to Amp Cables
500 Watt 100V System
#S-224
$1024.90
Click for Details
Same as 500 Watt System
Amp Interface Unit (AIU)
The Amp Interface Unit (AIU) can be used instead of a CBA unit when battery testing with a CBA A2 500W Amplifier.
Benefits of Using the AIU Over a CBA
Can detect when a CBA amplifier is malfunctioning and stop the test
Not possible to select the wrong CBA amplifier configuration in the software which would result in incorrect results
Eliminates one of the factors that contribute to error making the results more accurate and simplifying the cables for a multi-amplifier system
Allows CBA amplifiers from multi-amplifier systems to be reconfigured to different size systems. For example without an AIU you cannot split a 2000W system into four 500W systems because the units were set to a different amplification factor. Those CBA amplifiers would need to be sent back to West Mountain Radio to be reconfigured.
Can connect any number of CBA amplifiers and the software knows what you have
Note: The AIU only works with CBA amplifiers that have (1) a diagnostic port that looks like a modular phone jack and (2) the V2 firmware. CBA amplifiers purchased after October 1, 2022 have both of these characteristics. If you have a CBA amplifier with the diagnostic port that was purchased before October 2022, then it can be updated to the V2 firmware by filling out an RMA request to have it be recalibrated at West Mountain Radio.
Extended Software Single Unit License
Unlocks additional features for a specific AIU, CBA V or CBA IV unit based on the serial number
Note: The AIU requires CBA Software Version 3.1.4.0 or later.
500 Watt Amplifier
Discharge Range of 10-550W and Accuracy min. 100 mA
Voltage Range of 1-57V for the standard version or 1-100V for the 100V version
Computer Requirements: 32 or 64-bit Windows OS on Intel® or AMD processors (Virtual machines running Windows on these processors are OK)
Note: If using CBA III, Extended Software is required to run 500W Amplifier.
Note: The AIU cannot connect to a temperature probe which is required if you want to stop a test when the battery gets too hot or want to graph the temperature.
Note: The AIU does not have a TTL UART port that can be controlled by an Arduino, Raspberry PI, or other embedded system with a TTL serial port.
Includes
500 Watt System
Amp Interface Unit (AIU)
Amp Power Supply Cable
(4) AIU to Amp Cables
500 Watt 100V System
Same as 500 Watt System