Other Radio Products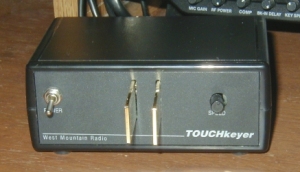 Just touch the paddles to send perfect CW. The TOUCHkeyer has no moving parts, no mechanical adjustments, no clicking sounds. With a little practice, you will find this easier to use than a mechanical keyer.
The speed can be adjusted from 5 to 50 wpm. There's a built in sidetone for listening or practice, an output for your own speaker, and a direct paddle output too.
The paddles are gold plated. They won't tarnish. It weighs 2lbs, heavy enough to keep the keyer from traveling during use. It can be programmed for 32 functions and has two 80 character memories for CW messages.

The CWswitch is a two-radio CW selector switch that enables a rig's CW paddle and keyers to be swapped between two radios with the flip of a single toggle switch.
The CWswitch selects which radio is keyed for use with break-in or semi-break-in transmit activation using:
CW paddles keying the radio's internal keyer
Straight keys or external keyers
Computer keyers
This handy device enables CW operators to quickly switch between two radios without having to wire keys in parallel or move cables.

A RIGtalk is a USB to serial converter with TTL* output.
USB rig control of radios with Positive logic TTL* level interfaces: CAT or CI-V.
For the first time you can control your radio with a computer's USB. port.
Rig control allows your radio to share frequency mode and band information with your logging software without tying up a serial port.
Compatible with USB 2.0 or lower.
Microsoft certified drivers for Windows 98SE - Vista 64; Windows 7 RC tested.
Convenient pocket sized USB dongle design.
Tough full ground plane 1/16" fiberglass PC board enclosed in a case.
Order it with a pre-wired and tested cable to fit your radio.
Cables available for Icom and Ten Tec CI-V (1/8" mini plug) and Yaesu CAT* (DIN connectors).
Use any rig control software that is compatible with your computer and radio.
Microsoft signed drivers will do a automatic Plug & Play installation without warnings from the CD or Microsoft On-line Update.
Our CD-ROM includes an extensive collection of third party rig control software. *NOTE: If you have a radio with a DB9 (RS232) CAT connector and your computer does not have a serial port, you should purchase our "RIGtalk" for Radios with DB9 (RS232) CAT Interface. See our Ordering page.