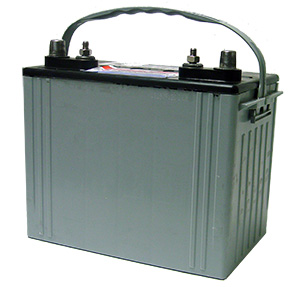 Sealed Lead Acid 79 Amp Hour AGM Battery (20 Hr Rate) is no longer available to purchase through our site.
East Penn - Intimidator 8A24M
Sealed 79 Amp Hour Absorbed Glass Mat (AGM) safety battery.
Group size 24 (10 7/8" x 6 3/4" x 9 7/8") Fits the WMR DC-to-Go Box.
Approximate Weight: 53 lbs
Marine style bolt-on terminals.
3000 10% or 200 50% discharge cycles.
Recommended for high vibration and mobile applications where the battery spends most of its life fully charged, and when used, it is typically less than half depleted. This would be, for example, an amateur repeater or commercial radio repeater site where the battery is used when AC is occasionally lost.
Battery price includes UPS Ground (only to US 48) shipping direct from the manufacturer to you. Battery orders shipping outside US 48 will not be accepted. Please allow 7-10 business days for delivery. There may be 2-8 week delay in shipping of batteries due to reductions in manufacturing and distribution. Other items on your order will be shipped by the shipping method you choose.
Note: Deep-cycling of the AGM 79 will significantly reduce the life of a battery.