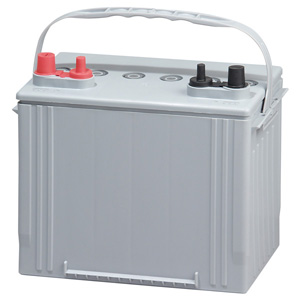 Gel 73 Amp Hour Deep-Cycle Battery (20 Hr Rate) is no longer available to purchase through our site.
East Penn - Deka Dominator 8G24
Sealed 73.6 Amp Hour Deep-cycle Gel Safety Battery. (Non Spillable)
Group 24 size (10 7/8" x 6 3/4" x 9 7/8") Fits the WMR DC-to-GO Box.
Approximate Weight: 52.5 lbs
Marine style bolt-on terminals.
Over 6000 10% or 500 100% discharge cycles.
Recommended for applications where the battery is typically fully charged, then fully used before recharging. This is a referred to as a deep-cycle application, similar to a boat trolling motor battery. The radio application would be for moderate power, temporary stations, or extended QRP operation where Limited Current Charging, Solar Power or no charging is available.
Battery price includes UPS Ground (only to US 48) shipping direct from the manufacturer to you. Battery orders shipping outside US 48 will not be accepted. Please allow 7-10 business days for delivery. There may be 2-8 week delay in shipping of batteries due to reductions in manufacturing and distribution. Other items on your order will be shipped by the shipping method you choose.