RIGblaster COMport Splitter
Download Now
FREE for owners of RIGblaster:
DXpro
Advantage
Plus II
Plug & Play
Duo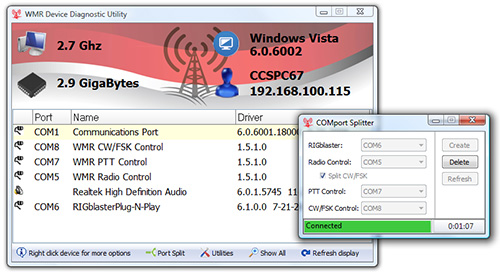 Features
COMport Splitter software allows for two virtual COM ports that support popular digital mode programs!
Operate a favorite digital mode program simultaneously with a favorite logging program.
Download the WMR Diagnostics to access COMport Splitter.
Compatible Programs
Works with any CAT program and any digital mode software simultaneously, including HRD/DM-780, N1MM/MMTTY, and Airlink Express.
Virtual COMport Splitter software available for use with RIGblaster DXpro, Advantage, Plus II, Plug & Play, and Duo.