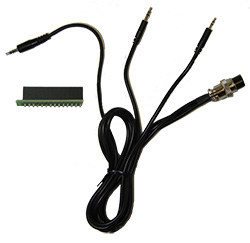 RB Jumpers - ISC: Baofeng/Kenwood HT Cable
#58119-1374
$39.95
Turn a Baofeng or Kenwood HT into a portable EMCOMM digital-mode station. This set-up allows for hooking up a high quality hand-mic and external speaker to the HT. The Instant Set-up Connector (ISC) included is ready to use in RIGblaster Advantage, Pro and Blue models. The ISC is also wired to provide easy RIGblaster hook up to Icom HM-103 (IC-706) microphone.
The RIGblaster Advantage and Pro speaker out jack may be used for HT RX audio with any external speaker.
Support Baofeng, Kenwood and other HT's with 2.5mm speaker jack and 3.5mm microphone jack.
Product Includes:
Baofeng/Kenwood HT Cable
Instant Set-up Connector
Works on RIGblaster Models: Advantage, Pro and Blue