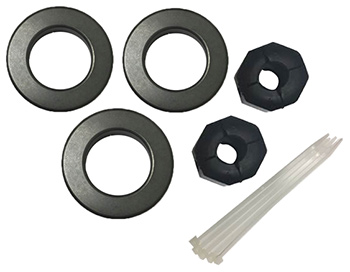 RFI Suppression Kit
#58430-1705
$39.95
The West Mountain Radio RFI Suppression Kit is a cost effective solution to mitigate RFI issues commonly encountered in a ham shack. The kit contains ferrite toroidal cores (for winding cables through) and two snap on cable chokes.
Includes
(2) Type 43 ferrite toroidal cores 2.4" OD - especially suited for upper HF and VHF
Type 31 ferrite toroidal core 2.4" OD - very effective at HF frequencies
(2) Type 31 snap on chokes - easy to use on cables and coax, effective at HF frequencies
Cables ties are included to hold cables on the toroids.