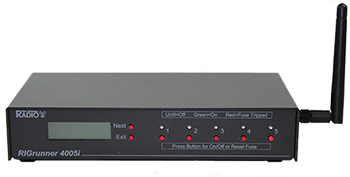 RIGrunner 4005i with WiFi
#58312-1354
$329.95
Click for Details
RIGrunner 4005i with WiFi capability
WiFi External Antenna
RIGrunner 4005i - 24V Positive
#58312-1441
$284.95
Click for Details
(6) Retention Clips
RJ45 Ethernet Cable
Owner's Manual
Features
The RIGrunner 4005i enables amateur radio, emergency communications systems and repeater site operators to monitor and control their DC power distribution systems from any internet-ready mobile device or PC.
Provides internet based monitoring and control of 12VDC power distribution
Delivers up to 40 amps total through 5 outlets while transmitting, 40 amps continuous duty
Each outlet features independent on/off control and user configurable current trip point, 100mA to 40A
RJ45 Ethernet port standard, WiFi option available
Integrated web server for monitoring and control
Can be configured to issue alarm email when outlet trips off
Front mounted LCD display and indicator LEDs for local monitoring of status, input voltage and current draw from each outlet
Power connectors on unit are Anderson Powerpole® connectors and retention clips are included
Click here to see the standard RIGrunner 4005i or RIGrunner 10010i Rackmount.
Please click here for more information on Powerpole® Connectors.
Specifications
Overall Dimensions (maximum, w/o cables): RIGrunner 4005i
1.625" H x 8" W x 5.25" D
Overall Dimensions (maximum, w/o cables): RIGrunner 4005i with WiFi
1.625" H x 9.5" W x 5.25" D
Weight: RIGrunner 4005i
16 oz.
Weight: RIGrunner 4005i with WiFi
16 oz.
Maximum total current
40 amps
Maximum single individual outlet current
40 amps (electronic fuse protected)
Input Voltage Range
min. 8.0V / max. 15.5V
Electronic Fuse Range
min. 0.01A / max. 40A
Environmental Temperature
-10 to 85 °C
Current:
Max. Total Continuous
40A
Max. Port Continuous
40A
Max Port @ 1 minute
40A
Operating w/Backlight
80mA
Operating no Backlight
70mA
Monitor:
Voltage Accuracy
+/- 2.5%
Voltage Resolution
0.01V
Current Accuracy
+/- 2.5%
Current Resolution
0.01A
Minimum Current Reading
50mA
Quality Declaration
This product has been tested to comply with Part 15 of the FCC rules for a Class B computer peripheral and digital device for use in the home and office. This testing is done to ensure the product does not generate RF interference.
Product designed, tested and used by ham radio operators onsite.
Includes
All Models
(6) Retention Clips
RJ45 Ethernet Cable
The integrated web server enables internet based monitoring and control of your DC power distribution system. It includes the following capabilities:
Input voltage monitor
Current draw monitoring through each outlet
Individual outlet on/off control with trip indication
Configuration of current limits for each outlet, 1 to 40 amps
Generation of alarm email in case of current limit trip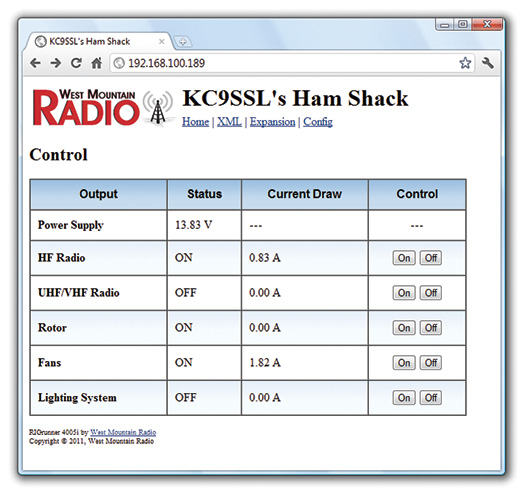 Powerpole® Connector Features & Benefits
Genderless Housings: Provide simplified assembly and minimize the number of components
Stackable Modular Housings: Available in four sizes to right size your connection need
Connection Versatility: Contacts for wire, PCB, or busbar all fit into the same housings
Low Resistance Connection: Silver or tin plated contacts inside housings that strongly force the contacts together
Color Coded Housings: Help ensure that connectors are assembled and mated correctly
Self Securing Design: Stainless steel springs create a robust force between the contacts that holds the connector in the mated condition, but allows it to be quickly disconnected.
Anderson Powerpole® Connectors and General Installation Tips
Powerpole® Connectors
15A
30A
45A
Amps (UL) Per Pole
0 to 55
0 to 55
0 to 55
Volts (UL) Per Pole
600
600
600
Amps Continuous
15
30
45
Wire Gauge (AWG)
20 - 16
16 - 12
14 - 10
Touchsafe
Polarized Housing
Yes
Yes
Yes
Yes
Yes
Yes
PDF Files
Links
Data Sheet
https://www.andersonpower.com/
Buy Powerpole® Pack
View Options