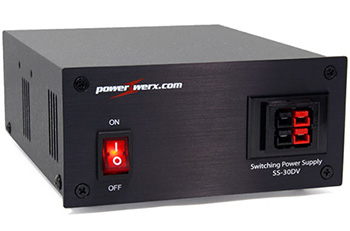 Out of StockAdd to Wish List
Powerwerx 30 Amp Desktop Switching Power Supply w/Powerpole®
#58561-1258
$139.95
Click for Details
Power Supply
AC Power Cord, 4 ft.
Mfg part number: SS-30DV
This small regulated switching power supply features 2 Powerpole® outputs in front and 1/4" binding posts in rear. Machined metal front bezel with illuminated power switch. DC output voltage 14.1V (adjustable via internal pot) at 25A continuous, 30A surge (up to 5 minutes). Small 6x5x2.5" footprint.
Features
Front Connection: 2 sets of Powerpole® connectors
Rear Connection: 1/4 inch binding posts that also accept banana plugs, ring terminals or compression connections
Illuminated Power Switch
Electrical specifications:
Input Range: 100-120 VAC or 200-240 VAC, 50/60Hz (Switchable) New!
Output Voltage: 14.1 VDC fixed (adjustable via internal pot)
Output Amperage: 25 continuous, 30 surge (up to 5 minutes)
Internal Protection: Thermal, over current
Internal Input Fuse: 6.3 Amps at 115 VAC
Ripple Peak-to-Peak Max. <100mVpp
Noise Peak-to-Peak Max. <100mVpp
Operating temperature rating: 0 - 50 °C
Storage temperature: -20 - 85 °C
Physical dimensions and materials:
Weight: 3.0 lbs. (48 oz.)
Overall Dimensions: 6.1 x 5 x 2.5 in (154mm long, 127mm wide, 63mm tall)
Fan: Quiet internal cooling fan
Machined metal case front bezel
Certifications
Meets FCC CFR Title 47 Part 15 Subpart B: Class B, CISPR: 2005 ANSI C63.4: 2003
Meets CE/LVD (Low-Voltage Directive 2006/95/EC) standard
Meets EMC: EN 55022:206+A1: 2007, 2010, EN 61000-3-2:2006
Powerpole® Configuration
The Powerpole® connectors mounted on the front panel conform to the RACES/ARES standard orientation.
Input Voltage Selection
The power supply is set up for 230V AC input as shipped from the factory. For 115V AC applications, set the recessed 115/230 input select switch located on the rear of the power supply into the proper position. Positions are identified on the switch. Use a small screwdriver to slide the switch into position. No adjustment is necessary for either 50 or 60 Hz input.
Applications
Land mobile radio base stations
Communications systems
Security systems
Automotive & marine systems
OEM applications
Test equipment
Electronic displays
12 Volt lighting systems
GPS receivers
DC computers
Installation Instructions
Unplug the power supply from the mains supply outlet.
Select the correct input voltage (See Input Voltage Selection).
Connect the power cable's positive (red) wire to the positive terminal and connect the negative (black) wire to the negative terminal on the back of the power supply or use the Powerpole® connectors mounted on the front panel.
Plug the power cable into the power socket on the back of the radio.
Plug the power supply into the mains supply outlet.
Turning the power supply on
Turn the power supply on by pressing the power switch to the 'ON' Position.
Turning the power supply off
Before you turn the power supply off, turn the radio off as described in the user documentation for the radio. Then turn the power supply off by pressing the power switch to the 'OFF' Position.
Cooling
The SS-30DV power supply is cooled by convection and forced air cooling (normal airflow around the power supply in combination with a temperature controlled fan to improve cooling at higher levels of use). The fan is activated by a sensor when the temperature rises above 70 °C.
Warranty
The Powerwerx support policy is simple: we want you to be happy! If you have a problem, please feel free to contact us and we will do our best to get you up and running as soon as possible.
The SS-30DV has a three-year limited warranty. We will repair or replace (at our discretion) your SS-30DV if you encounter any problems within three years from the date of purchase. We reserve the right to charge a reasonable fee for repairing units with user-inflicted damage. It is your responsibility to ship the defective unit back to Powerwerx. We will pay for the return shipping back to you. We reserve the right to upgrade your equipment to an equivalent or better model.
Includes
Power Supply
AC Power Cord, 4 ft.
Powerpole® Connector Features & Benefits
Genderless Housings: Provide simplified assembly and minimize the number of components
Stackable Modular Housings: Available in four sizes to right size your connection need
Connection Versatility: Contacts for wire, PCB, or busbar all fit into the same housings
Low Resistance Connection: Silver or tin plated contacts inside housings that strongly force the contacts together
Color Coded Housings: Help ensure that connectors are assembled and mated correctly
Self Securing Design: Stainless steel springs create a robust force between the contacts that holds the connector in the mated condition, but allows it to be quickly disconnected.
Anderson Powerpole® Connectors and General Installation Tips
Powerpole® Connectors
15A
30A
45A
Amps (UL) Per Pole
0 to 55
0 to 55
0 to 55
Volts (UL) Per Pole
600
600
600
Amps Continuous
15
30
45
Wire Gauge (AWG)
20 - 16
16 - 12
14 - 10
Touchsafe
Polarized Housing
Yes
Yes
Yes
Yes
Yes
Yes
PDF Files
Links
Data Sheet
https://www.andersonpower.com/
Buy Powerpole® Pack
View Options