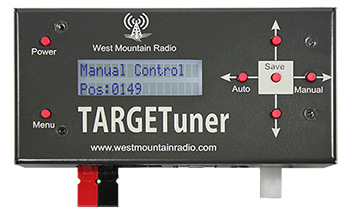 TARGETuner
#58425-1473
$234.95
Click for Details
TARGETuner Controller Unit
RF Sensing Module
Shielded RJ-45 Cable, 6 ft.
PL-259 Coaxial Jumper
Molex 03-06-2044 with pins
Powerpole® Extension Cable, 6 ft.
Owner's Manual
Description
TARGETuner Mobile Antenna Management System provides a controller with intelligent automatic controls for the tunable mobile screwdriver antenna, and a Remote RF Module.
Performance
Senses RF signal into the antenna
No radio data link required for band selection
Direction switch and motor control of speed and direction
Programmable for stall current sensing
Easy programming and memory capabilities
Auto tuning
Capabilities
NEW SWR Alarm:

Audible alarm alerts user when measured SWR rises above usable threshold.

NEW TTL Rig Control Serial Port:

Allows TARGETuner to read the frequency directly from the radio using CI-V, CAT or serial rig control. The rig control port on the TARGETuner is compatible with these rig control cables: for Icom, for Yaesu.

NEW USB Port:

Allows for users to make firmware updates to the unit, as they become available from West Mountain Radio. Firmware updating requires a Windows PC and a micro USB cable.
Digital display for basic transmission frequency and SWR read-out
Manual tuning controls for monitoring antenna performance and adjustments
Continuous sensor monitoring of vehicle movement, antenna icing and many other environmental factors
Convenient and safe Powerpole® connectors for simple installation
TARGETuner Controller Unit
The control unit is an intelligent, microprocessor based, data and Pulse Width Modulated (PWM) Motor Controller that monitors the transmitter frequency and antenna performance, while managing the antenna motor speed and tuning accordingly.
Auto-detect complete antenna position sensor range to generate the antenna tuning range.
Sample, Store and Recall antenna tuning location data based on Transmitter Frequency and best SWR.
Continuous monitoring of the Forward and Reverse Power Ratio (SWR) of the antenna system and continually adjust the tuning to provide the best antenna efficiency at the transmitter frequency.
A PWM speed control for the antenna motor with Motor Current and Antenna Position Feedback.
Motor control direction relative to transmitter frequency and SWR tuning to automatically seek a minimum SWR reading.
Manual controls also offer the user the ability to adjust the antenna tuning manually, and store new data points for new and favorite frequencies.
The RF Sensing Module
This unit is to be mounted close to the Radio inline with the antenna feed.
Frequency Monitoring and a Prescaler that monitors the frequency of transmitter.
Forward and Reverse RF power detection to monitor antenna performance (SWR data).
Grounding provisions and standard UHF connectors provided.
Specifications
Primary Power:
13.75 Volts DC, 2.1 Amps Max, 33 mA Standby
Internally monitored and Fused
Antenna Motor Voltage:
13.75 Volts PWM Speed Controlled
Antenna Motor Current:
Monitored, and maximum current selectable
2.0 Amps Max (Intermittent)
Antenna Encoder Range:
0 to 9999
Frequency Range:
1.800 MHz to 54.000 MHz
Frequency Readout :
Better than +- 0.01%
Useable RF Power Range:
2.0 to 800 Watts
SWR Range:
1.0:1 to 9.9:1 - auto level and ranging
Frequency / SWR Antenna Location Memories:
30
Weight:
2.2 lbs
Dimensions:
Controller Unit - 1.3125" H x 4.64" W x 3" D
RF Sensing Module - 1.375" H x 3.5" W x 4.5" D
Supported Antennas
Screwdriver Antenna Manufacturer
Motor Control
Sensor
Physical Connection
Notes
Alpine Antenna
http://www.alpineantenna.com
2-wire
(12V DC motor)
N/A
Anderson Powerpole®
Positions cannot be saved in memory presets
Ameritron
http://www.ameritron.com
4-wire
(12V DC motor)
Turns count sensor
Molex 4-pin *
Diamond Antenna
http://www.diamondantenna.net
4-wire **
(12V DC motor)
N/A
Molex 4-pin *
Positions cannot be saved in memory presets
Eliminator Antennas
http://www.eliminatorantennas.com
4-wire
(12V DC motor)
Turns count sensor
Molex 4-pin *
Hi-Q Antennas
http://www.hiqantennas.com
4-wire
(12V DC motor)
Reed Switch
(2 pulses per revolution)
Bare wire ends
Positions cannot be saved in memory presets
K4POZ Screwdriver Antennas
http://www.k4poz.com
2-wire
(12V DC motor)
N/A
Quick Disconnects
Positions cannot be saved in memory presets
Scorpion Antennas
http://www.scorpionantennas.com
4-wire
(12V DC motor)
Turns count sensor
Quick Disconnects or
Del City 4-Way Square Molded Connector Female (#74095)
Tarheel Antennas, Inc.
http://www.tarheelantennas.com
4-wire
(12V DC motor)
Turns count sensor
Molex 4-pin *
* Mates directly to TARGETuner
** Older models may be 2-wire
Quality Declaration
This product has been tested to comply with Part 15 of the FCC rules for a Class B computer peripheral and digital device for use in the home and office. This testing is done to ensure the product does not generate RF interference.
Product designed, tested and used by ham radio operators onsite.
Includes
TARGETuner Controller Unit
RF Sensing Module
Shielded RJ-45 Cable, 6 ft.
PL-259 Coaxial Jumper
Molex 03-06-2044 with pins
Powerpole® Connector Features & Benefits
Genderless Housings: Provide simplified assembly and minimize the number of components
Stackable Modular Housings: Available in four sizes to right size your connection need
Connection Versatility: Contacts for wire, PCB, or busbar all fit into the same housings
Low Resistance Connection: Silver or tin plated contacts inside housings that strongly force the contacts together
Color Coded Housings: Help ensure that connectors are assembled and mated correctly
Self Securing Design: Stainless steel springs create a robust force between the contacts that holds the connector in the mated condition, but allows it to be quickly disconnected.
Anderson Powerpole® Connectors and General Installation Tips
Powerpole® Connectors
15A
30A
45A
Amps (UL) Per Pole
0 to 55
0 to 55
0 to 55
Volts (UL) Per Pole
600
600
600
Amps Continuous
15
30
45
Wire Gauge (AWG)
20 - 16
16 - 12
14 - 10
Touchsafe
Polarized Housing
Yes
Yes
Yes
Yes
Yes
Yes
PDF Files
Links
Data Sheet
https://www.andersonpower.com/
Buy Powerpole® Pack
View Options