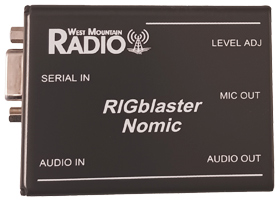 RIGblaster Nomic USB/Serial Complete
#58008-959
$69.95
Click for Details
USB and Serial Port RS232
3' 8 Pin Round Circular Mic Cable
3' RJ45 Mic Cable
USB to RS232 Male Adapter
6' DB9M to DB9F Serial Cable
(2) 1/8" Audio Cables, 6 ft.
USB External Sound Card Adapter
USB Flash Drive with Device Drivers, Owner's Manual & Collection of Ham Radio Sound Card Software
Accessory Kit

Capabilities
The RIGblaster Nomic is a small, simple, rugged and inexpensive sound card interface - perfect for dedicated digital stations.
Occasionally the Nomic will not key an older radio. The reasons for this could be the USB to RS232 adapter cable is not putting out enough voltage to drive the optoisolator hard enough. This is more likely to occur with older model radios (esp. Icom). Using a real RS232 port on a computer may be a possible solution for some radios but others may require a modification to the Nomic. This modification swaps the optoisolator for a SSR (solid-state relay).
Compatible with All Manufacturers' Radios
Can be used with almost any make or model microphone and most model radios no matter what brand
Any radio that has a 8 pin round screw on microphone connector
Any radio that has an RJ45 modular telephone style connector
Any radio with RJ25 6 wire microphone connector with the purchase of an optional FT100 style 6 wire modular mic. cable
Any radio with 4 pin round microphone connector with the purchase of a optional 4 pin mic cable
Computer Interface
Supplied with both a standard DB9 RS232 serial cable and USB cable interface (supported for Mac (OS9,10), Linux, Windows (98SE - Windows 11)! May be used old or new computers with your choice of USB or RS232 DB9 serial
No external power supply necessary so it is great for portable or QRP operation
Great simple and inexpensive choice for a dedicated Internet link with the EchoLink® System
Mic / Keying / Audio
Properly matched and RF suppressed audio for your radio
Fully isolated transmit audio and PTT keying, unlike other interfaces that have little or no isolation
Easier hookup thanks to our fully isolated audio and computer keying circuits
Positive and fully automatic PTT control supported almost 100 ham programs, no illegal or spurious signals due to built in sound card VOX operation
Construction
Assembled in USA to IPC-610 manufacturing standards
Printed circuit board uses FR4 material, double sided, plated through holes, solder mask over bare copper, silk screened
Enclosure: .062 aluminum, polyurethane painted, silk screen labeling front and back
3M Bumpon™ protective feet and 3M™ adhesive pads are provided for mounting
Stainless steel hardware throughout including PEM™ threaded mounting standoffs
EchoLink® is a registered trademark of Synergetics, LLC
Specifications
View schematic in .pdf format.
Overall Dimensions (maximum, w/o cables)
1.5" H x 2.25" W x 3.25" D
Weight
4 oz.
Frequency response sound card input
100 Hz - 15 kHz, + - 1dB
Distortion sound card input
Less than 0.1 % THD @ 1kHz
Input impedance (from sound card)
600 ohms resistive, minimum
Sound card level adjustment range
-34 dB to > -120 dB
PTT compatibility
Transistor logic only, tube amps not supported. Positive pull down .15V min. @ 2 ma. max
Serial interface (DB9F connector)
Standard RS232
RS232 Pin Assignments (DB9 PC signal set)

Pin 4 Data Terminal Ready (PTT control)
Pin 5 Signal Ground (isolated digital common)
Pin 7 Request To Send (PTT control)
The sound card audio is isolated from ground using an audio transformer. A high grade DC blocking capacitor on the sound card to mic. output is provided for use with radios that are designed for use with amplified or electret microphones. An opto-isolator provides fully isolated PTT control or CW keying.
Unlike the RIGblaster Pro, Plus II and Plus, which use relays for PTT keying, the Nomic's opto-isolator will not safely key an older tube rig. The CW keying and PTT keying circuits are only designed to work with modern solid state radios.
Quality Declaration
This product has been tested to comply with Part 15 of the FCC rules for a Class B computer peripheral and digital device for use in the home and office. This testing is done to ensure the product does not generate RF interference.
The Windows XP, Vista, Windows 7, Windows 8, Windows 10 and Windows 11 PC device drivers supplied with the Serial to USB adapter cable for this product have passed Microsoft WHQL testing and are certified. Using certified drivers simplifies the driver installation process and ensures the driver is not going to crash or otherwise damage the PC configuration. The Windows 98 and 2000 drivers are supported.
This product is fully enclosed in a metal case and has passed testing at West Mountain Radio to show high immunity to RF interference from amateur radio equipment. This ensures that in a typical station the RF field will not corrupt data transfer.
Audio quality testing on this product has shown it to perform excellent with audio signals from 300 to 5000 hz. This demonstrates a low level of distortion for both data and voice.
This product has full D.C. isolation on critical circuitry/connections to prevent ground loops and hum pickup.
Product designed, tested and used by ham radio operators onsite.
Includes
A USB flash drive of the RIGblaster Software Collection is the standard media. If you are unable to use a USB flash drive, you may request the software on a DVD or three (3) CD Set. When ordering online, in the comments section of the order form, type in "Request DVD" or "Request 3 CD Set". Alternately, the collection of software programs may be individually downloaded here.
The owner's manual is available in PDF format on the USB flash drive and online. If you require a printed manual, request "Printed Manual" in the Notes section of the online order.