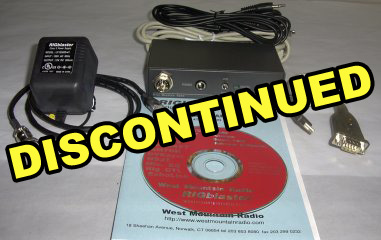 The RIGblaster Plus model is no longer in production. It has been replaced by the RIGblaster Plus II, a greatly enhanced product sold at the same price as the original RIGblaster Plus.
Accessories and product support for the RIGblaster Plus are still available
Includes
All Models
3' Mic Cable
USB Interface Cable
6' DB9M to DB9F Serial Cable
(2) 6' Mini Plug Audio Cables
Owners Manual
CD-ROM
Accessory Kit

(8) White Jumpers
(5) Blue Shunt Jumpers
(4) Rubber Feet
(4) 3M Adhesive Pads
(4) Black Screws
USB/Serial 120 (USA)
USB/Serial 230VAC (EU Only)
12 VDC Wall Power Supply 230VAC
USB/Serial 12 VDC
Capabilities
Compatible with +2000 Radios
Can be used with almost any make or model microphone and most model radios no matter what brand
Any radio that has a 8 pin round screw on microphone connector
Any radio that has an RJ45 modular telephone style connector
Any radio with RJ25 6 wire microphone connector with the purchase of an optional FT100 style 6 wire modular mic. cable
Any radio with 4 pin round microphone connector with the purchase of a optional 4 pin mic cable
Computer Interface
Supplied with both a standard DB9 RS232 serial cable and USB cable interface (supported for Mac (OS9,10), Linux, Windows (98SE - Vista 32 and 64 bit)! May be used old or new computers with your choice of USB or RS232 DB9 serial
True Keyed CW
In addition to the PTT keying circuit there is a fully isolated CW/FSK keying output for direct keying of your rig's CW or FSK jack for use with non-sound card software, no other interface has this
Input for control of the additional fully isolated CW/FSK keying circuit as well as the PTT circuit is jumper selectable between serial port control pins: RTS, DTR, and TXD
Mic/Keying/Audio Flexibility
No extra manual switches needed, two DPDT relays for true automatic operation unlike other sound card interfaces
Simpler operation than the other brands, you never have to remember to push un-needed switches to make your station work
PTT override and interrupt enables mic to override the computer or stop the computer program, perfect for contesting or SSTV operation
Rear panel RCA PTT switch / foot switch jack enables the PPT override and interrupt
Internal diagnostic RTS, DTR and TXD LEDs show at a glance what the serial port is doing
Properly matched and RF suppressed audio for your radio
Fully isolated transmit audio and PTT keying, unlike other interfaces that have little or no isolation
Positive and fully automatic PTT control supports almost 100 ham programs, no illegal or spurious signals due to built in sound card VOX operation
Specifications
View schematic in .pdf format.
Overall Dimensions (maximum, w/o cables)
1.5" H x 5.5" W x 3.75" D
Weight (without AC adapter)
9 oz.
AC Power requirements (with supplied AC adapter)
120 Vac <1.5 watts
DC Power requirements (without supplied AC adapter)
13.8 Vdc nominal < 80mA
Frequency response, microphone input
Direct coupled
Distortion, microphone input
Direct coupled
Frequency response sound card input
100 Hz - 15 kHz, + - 1dB
Distortion sound card input
Less than 0.1 % THD @ 1kHz
Input impedance (from sound card)
600 ohms resistive, minimum
Sound card level adjustment range
-34 dB to > -120 dB
PTT max contact rating
2 A @ 24 V or 1 A @ 48 V
CW or FSK direct keying ratings
Transistor logic only, tube amps not supported. Positive pull down .15 V min. @ 20 ma. max
Serial interface (DB9F connector)
Standard RS232
RS232 Pin Assignments (DB9 PC signal set)

Pin 3 Transmit Data (FSK option)
Pin 4 Data Terminal Ready (default Keying control)
Pin 5 Signal Ground (isolated digital common)
Pin 6 Data Set Ready (PTT interrupt)
Pin 7 Request To Send (default PTT control)
Pin 8 Clear To Send (PTT interrupt)
The microphone audio is completely isolated from all other grounds. The sound card audio is isolated using an audio transformer. The serial and PTT circuits are isolated using, two DPDT relays, and an opto-isolator. A high grade DC blocking capacitor on sound card to mic. output is provided for use with radios that are designed for use with amplified or electret microphones.
The relays provide adequate current and voltage capability to switch tube rigs. The relays also provide automatic switching between sound card audio and the microphone plus our mic. override and mic. interrupt features.