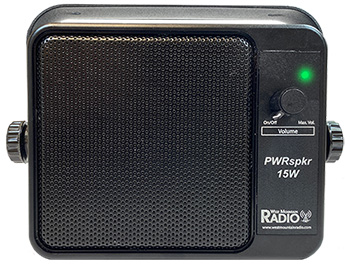 PWRspkr 15W
#58406-947
$79.95
Click for Details
PWRspkr - Amplified Speaker
Tilt mounting bracket
(1) 6ft power cable with Powerpole® connectors
(1) 1/8" Audio Cables, 6 ft.
Owner's Manual
View Details
. The estimated return to stock date is
February 1, 2022
.
Capabilities
High power 15 watt RMS linear power amplifier minimizes distortion at high sound levels
Sharp bandpass filter with 300 Hz to 3.2 kHz pass band attenuates unneeded bass and treble sounds
Adjustable gain control
Power cable fitted with Powerpole® connectors
Plugs into radio's speaker or headphone jack
Ideal for use in truck or car for improved communication in noisy environment
Specifications
Dimensions
4.3" H x 5.5" W x 2.5" D
4.7" H x 6.5" W x 2.7" D when mounted
Power Requirements
9 to 16VDC
Current: 2A max w/ 13.8V supply
Quiescent current 90mA typical
Sensitivity
0.83 VRMS produces full output into 4 ohms (1 kHz signal, 13.8V supply)
Loudspeaker Driver
4 in. treated paper cone
4 ohm impedance
Rated Power: 20 watts
Power Amplifier - Integrated Circuit
Class AB Linear BTL (bridged-tied-load) circuit
15 watts RMS audio output into 4 ohms when powered by 13.8V supply
Short circuit protected by shut down
Over-heat protected by shut down
Heat sink is the two PCB ground planes
Pre-Amplifier
Active four stage filter with gain
Frequency response is flat 300 to 3.2kHz
18 dB/octave high-pass at 300 Hz (-3 dB)
18 dB/octave low-pass at 3.2 kHz (-3 dB)
Includes
PWRspkr - Amplified Speaker
Tilt mounting bracket
Quality Declaration
Product designed, tested and used by ham radio operators onsite.
Powerpole® Connector Features & Benefits
Genderless Housings: Provide simplified assembly and minimize the number of components
Stackable Modular Housings: Available in four sizes to right size your connection need
Connection Versatility: Contacts for wire, PCB, or busbar all fit into the same housings
Low Resistance Connection: Silver or tin plated contacts inside housings that strongly force the contacts together
Color Coded Housings: Help ensure that connectors are assembled and mated correctly
Self Securing Design: Stainless steel springs create a robust force between the contacts that holds the connector in the mated condition, but allows it to be quickly disconnected.
Anderson Powerpole® Connectors and General Installation Tips
Powerpole® Connectors
15A
30A
45A
Amps (UL) Per Pole
0 to 55
0 to 55
0 to 55
Volts (UL) Per Pole
600
600
600
Amps Continuous
15
30
45
Wire Gauge (AWG)
20 - 16
16 - 12
14 - 10
Touchsafe
Polarized Housing
Yes
Yes
Yes
Yes
Yes
Yes
PDF Files
Links
Data Sheet
http://www.andersonpower.com/
Buy Powerpole® Pack
View Options