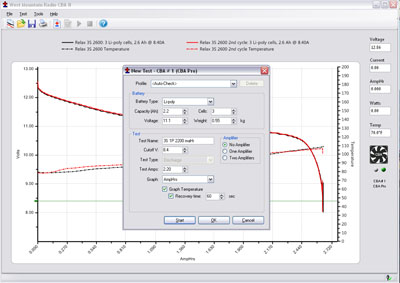 Extended Software Single Unit License
#58252-1182
$119.95
Extended Software Multi-unit on One PC License
#58252-1168
$599.95
Free Standard Software for Data Analysis
User selected battery cell chemistry, number of cells and test current
Software recommends safe tests based on user supplied battery information
Automatic graph setup and scaling
Measures and displays voltage, current, amp-hrs, and watts
Easy overlay comparisons of multiple graphs may be displayed, saved, and recalled (view)
Save, display and print battery test graphs and battery labels
Plug and Play high speed USB interface, with easy to use and intuitive Windows® software supplied on CD ROM
Manage individual tests on any number of CBA IV units connected to the PC from the software with multiple tabs
Dynamic test, allows user to alter test parameters without having to stop and start a new test
Test Modes: Mission Profile, Discharge, Dynamic, Charge Monitor, Power Profile (view chart)
Extended Software Upgrade License Unlocks Additional Features for Serious Battery Testing
Multiple discharge tests, allow user to specify several different load points and duration of each load. Parameters of test can be imported from a CSV file, CSV file can be created manually via a text editor software or exported from PWRcheck software. CBA IV can program constant power or constant current for each point of the profile, CBA III and CBA II can only use constant current. Fast CBA IV's shortest duration per point is 0.1s. Slow CBA IV's, CBA III's and CBA II's shortest duration is 5s. (view)
Programmable duty cycle, alternate between on and off at user specified periodic interval. CBA IV can alternate between constant current, constant power or constant resistance (CBA III and CBA II can only alternate between constant current). Fast CBA IV's fastest period is 1s. Slow CBA IV's, CBA III's and CBA II's fastest period is 5s.
Regulated constant power discharge (current goes up as battery voltage drops)
Programmable constant resistance (current goes down as battery voltage drops)
Temperature graphing with a recovery time option* (view)
Ragone power density charting using battery weight (used for performance comparison of energy sources charting energy density (Watt-Hours/kg) vs power density (W/kg))
Test-lead resistance voltage calibration utility to give higher accuracy voltage readings right at the battery terminals
Enables placement of user notes on graphs (view)
Adjustable sample rate. Standard software always samples once per second. Extended software allows sample rates from once every 10 seconds to 20 samples per second. Sample rates faster than once per second require CBA IV. CBA III's and CBA II's fastest sample rate is once per second.
Additional Test Modes: Duty Cycle, Constant Power, Multiple Discharge, Constant Resistance, Timed Discharge (view chart)
* Requires optional temperature probe
Extended License Options
Single Unit
The Extended features are available to a specific CBA IV unit based on the serial number.
Multi-unit for One PC
A CBA IV unit, specified by one serial number, is designated as Extended and all other CBA IV units connected to the one PC have access to the Extended features.
This license is necessary for multiple CBA III units to be controlled from one PC, for Standard or Extended software.
Computer System Requirements
Basic Requirements:
98SE, W2K, XP, Vista®: 32 or 64 bit, Windows® 7: 32 or 64 bit, Windows® 8, Windows® 10
An available USB port
Extended Software Upgrade License requires the following:
CBA software version 2.1 or later, free download
Serial number of CBA that license will be locked to
Software Screenshots
Multiple Discharge Tests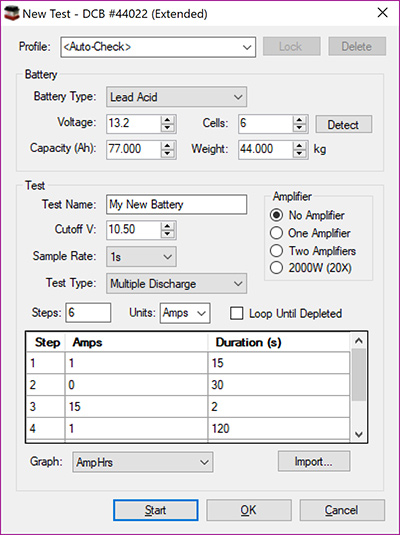 Overlay Comparisons of Multiple Graphs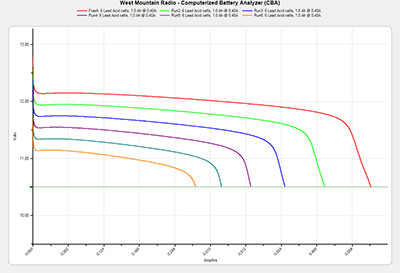 Temperature Graphing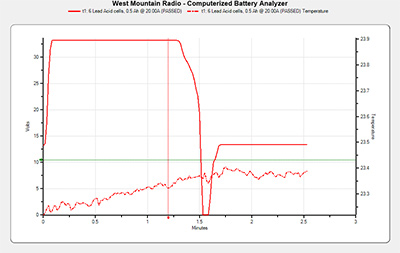 User Notes on Graph