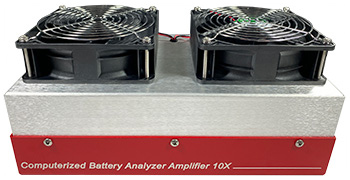 CBA A2 500W Amplifier
#58253-1281
$729.95
Click for Details
CBA amplifier
6 inch Powerpole® Cable
Power Supply Cable
Owner's Manual

Note: When using a CBA III unit, Extended Software is required to operate
The CBA amplifier requires an AIU or CBA to work. If you do not own an AIU or CBA, you can purchase a 500 Watt System, 1000 Watt System or 2000 Watt System that includes the AIU.
If you own an AIU, then you can add up to four CBA amplifiers.
If you own a CBA and a CBA amplifier and want to add this to create a 1000 Watt or 2000 Watt system, then you will need to fill out an RMA request and send in your CBA and CBA amplifier(s) to have them recalibrated for a 1000 Watt or 2000 Watt system. It also needs to be added to the comments section of your order that this CBA amplifier will be used in a 1000 Watt or 2000 Watt system.
Capabilities
Perform Fast, High Power Testing
Test at 5 times the power with a CBA amplifier in between an AIU or CBA and your battery
500 watt discharge with a single amp and an AIU or CBA
1000 watt discharge with two amplifiers, a harness and an AIU or CBA
2000 watt discharge with four 20X* amplifiers, a harness and an AIU or CBA
Designed for commercial or industrial use
Test a Lithium cell at up to 120 amps / 500 watts with a single amplifier
Test a Nickel cell at 160 amps regulated down to .9 volts with a single amplifier
Test batteries at or near their current and temperature limits
Support for operation with one or more CBA 500 watt amplifiers and an AIU or CBA V or CBA IV (CBA III units require Extended license)
* 20X amplifiers are a special order item.
Test at Real World Load Conditions
Increases 100 watt continuous capability of CBA to 500 watts
Discharge rates at up to 500 watts or 160 amps maximum, whichever is higher
High voltage testing at up to 55 volts; the equivalent of 1 to 38 NiCad or NiMh cells
Extended Software License Unlocks Features for Serious Battery Testing
Programmable automatic duty cycle test with up to 999 second on/off cycle periods
Regulated constant power discharge (current goes up as battery voltage drops)
Temperature graphing with a recovery time option
Ragone power density charting using battery weight (used for performance comparison of energy sources charting energy density (Watt-Hours/kg) vs power density (W/kg))
Test-lead resistance voltage calibration utility to give higher accuracy voltage readings right at the battery terminals
Enables placement of user notes on graphs
Easy-to-Use Software for Data Analysis
User selected battery cell chemistry, number of cells and test current
Software recommends safe tests based on user supplied battery information
Automatic graph setup and scaling
Measures and displays voltage, current, amp-hrs, watts and temperature*
Easy overlay comparisons of multiple graphs may be displayed saved and recalled
Save, display and print battery test graphs and battery labels
Plug and Play high speed USB interface, with easy to use and intuitive Windows® software supplied on USB flash drive
* Requires optional temperature probe
Hardware Requirements
AIU, CBA III, CBA IV or CBA V
Computer System Requirements
Basic Requirements:
A PC with a Pentium 233 or better
At least an 800 X 600 graphics card and display monitor
98SE, W2K, XP, Vista®: 32 or 64 bit, Windows® 7: 32 or 64 bit, Windows® 8, Windows® 10, Windows® 11
32 or 64-bit Windows OS on Intel® or AMD processors (Virtual machines running Windows on these processors are OK)
An available USB port
Recommended:
AMD or Intel 1.2 GHz or better
Better than 800 X 600 graphics and display monitor
Windows® XP or newer 32 or 64 bit 4 GB RAM
An available USB port (external hubs not supported)
For graph and label printing:
Any Windows compatible, laser or ink jet, color or black and white, printer
Windows compatible single label printers are also supported
Specifications
Maximum continuous discharge rate: 500 watts
Discharge rate amplification typically 10X +- 1%
Absolute maximum operating voltage: 55 Volts
Maximum discharge rate: 160 amps (3.12 Volts at test start)(Battery dependent)
Minimum Voltage for a 160 amp discharge: .9 volts at completion of test (Battery dependent)
Supplied with copper bus 5/16 bronze bolt battery connections and plug in Powerpole® CBA connector.
On/off/bypass switch. On and over-temperature LED indicators, viewable from across a room.
Automatic fan operation senses 1 amp or more current from the CBA. Stays on approximately 5 minutes after test completion.
PC: 32 or 64-bit Windows OS on Intel® or AMD processors (Virtual machines running Windows on these processors are OK)
Dimensions (overall): 5.5" H x 6.25" W x 13.75" D.
Weight: 134 oz.
Please click here for more information on Powerpole® Connectors.
Quality Declaration
Product designed, tested and used by ham radio operators onsite.
Includes
CBA A2 500W Amplifier
CBA amplifier
6 inch Powerpole® Cable
Power Supply Cable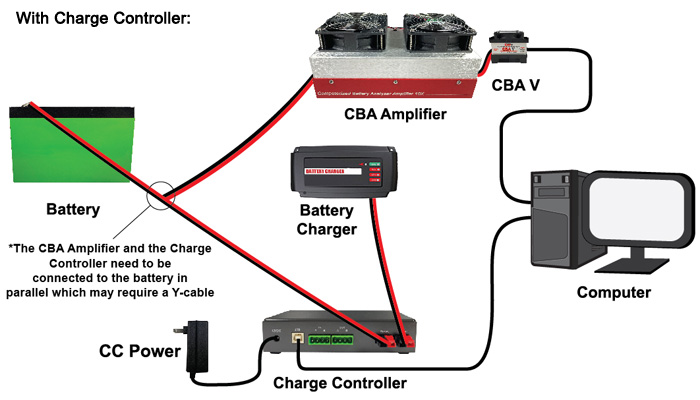 Powerpole® Connector Features & Benefits
Genderless Housings: Provide simplified assembly and minimize the number of components
Stackable Modular Housings: Available in four sizes to right size your connection need
Connection Versatility: Contacts for wire, PCB, or busbar all fit into the same housings
Low Resistance Connection: Silver or tin plated contacts inside housings that strongly force the contacts together
Color Coded Housings: Help ensure that connectors are assembled and mated correctly
Self Securing Design: Stainless steel springs create a robust force between the contacts that holds the connector in the mated condition, but allows it to be quickly disconnected.
Anderson Powerpole® Connectors and General Installation Tips
Powerpole® Connectors
15A
30A
45A
Amps (UL) Per Pole
0 to 55
0 to 55
0 to 55
Volts (UL) Per Pole
600
600
600
Amps Continuous
15
30
45
Wire Gauge (AWG)
20 - 16
16 - 12
14 - 10
Touchsafe
Polarized Housing
Yes
Yes
Yes
Yes
Yes
Yes
PDF Files
Links
Data Sheet
https://www.andersonpower.com/
Buy Powerpole® Pack
View Options