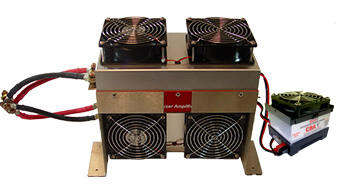 1000 Watt System
#S-156
$1838.75
Click for Details
CBA IV Pro Unit
2 - 10X 500 Watt Amplifiers
Amp Rack and 1000 Watt Harness Assembly
View Details
. The estimated return to stock date is
July 31, 2021
.
Note:
This product will ship within 2-4 business days.
Pro Unit Model
Calibrated and tested to accuracy levels of < 1% Amp load

< 0.5% volts

Included calibration chart
One free unit calibration
CBA IV Pro Unit
Discharge Range of 1-150W, Accuracy min. 10 mA and Voltage Range of 1-55V
500 Watt Amplifier
2 - 10X 500 Watt Amplifiers
Amp Rack and 1000 Watt Harness Assembly
Discharge Range of 20-1100W, Accuracy min. 100 mA and Voltage Range of 1-55V
* Note: If using CBA III, Extended Software is required to run 500W Amplifier.
Includes
Amp Rack and 1000 Watt Harness Assembly