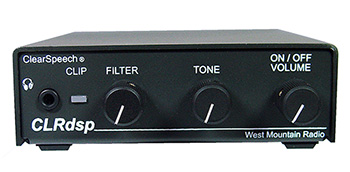 Out of StockAdd to Wish List
CLRdsp ClearSpeech® DSP Noise Reduction Processor
#58407-949
$219.95
Hear the Difference
Compare to Competitors




See how it works
Learn more about adaptive digital signal processing
See how the adaptive DSP noise reduction algorithms filter noise from a variety of sources
Capabilities
Speaker and headphone amplifier with ClearSpeech® adaptive DSP noise reduction for voice and CW
Recognizes intermittent nature of CW and allows it to pass noise free
Continuously adjustable noise reduction
Contains 11 watt (into 4 ohms) power amplifier
Sturdy aluminum case - Ideal for mobile operation as well as home station
Powerpole® plugs into any 12V supply
Plugs into the speaker or headphone output on the radio
1/8 inch phone jack on rear can drive external 8 or 4 ohm loudspeaker. Amplified speakers should connect to the headphone jack on the front panel instead of the speaker jack on the rear panel. Phone jack on the rear panel to connect only to an "unpowered" speaker.
On-Off switch with green indicator LED
RED LED flashes to indicate "clipping"
Specifications
| | |
| --- | --- |
| Enclosure | Aluminum, powder coat painted |
| Dimensions | 1.25" H x 4.25" W x 6" D |
| Power Requirements | 9 to 16 Vdc; 1.1 A typical before onset of clipping |
| Audio Input | High impedance, 0.01 VAC |
| Voltage Gain | 46 dB |
| Audio Output Power | 11 watts RMS maximum into 4 ohms @ 13.8 VDC |
| Maximum Audio Ouput Voltage | 7.75 Vrms |
| Input Clipping Level | 0.04 volts RMS |
| Noise Reduction Characteristics | Adaptive, single tone greater than 50 dB |
Includes
CLRdsp ClearSpeech® DSP Noise Reduction Processor
Quality Declaration
This product has been tested to comply with Part 15 of the FCC rules for a Class B computer peripheral and digital device for use in the home and office. This testing is done to ensure the product does not generate RF interference.
Product designed, tested and used by ham radio operators onsite.
Powerpole® Connector Features & Benefits
Genderless Housings: Provide simplified assembly and minimize the number of components
Stackable Modular Housings: Available in four sizes to right size your connection need
Connection Versatility: Contacts for wire, PCB, or busbar all fit into the same housings
Low Resistance Connection: Silver or tin plated contacts inside housings that strongly force the contacts together
Color Coded Housings: Help ensure that connectors are assembled and mated correctly
Self Securing Design: Stainless steel springs create a robust force between the contacts that holds the connector in the mated condition, but allows it to be quickly disconnected.