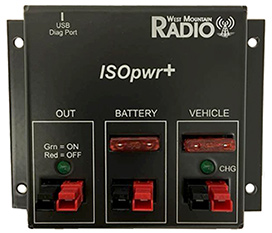 ISOpwr+ - Auxiliary Battery Isolator
#58401-1044
$119.95
Click for Details
ISOpwr+ Unit
Battery Fuse & Terminal Kit
(4) Rubber Feet
Owner's Manual
Isolates and charges a 12 Volt auxiliary battery to run mobile radio and other 12 Volt portable equipment.
Ideal for mobile radio command stations for ARES, RACES, FEMA, and for a VHF/UHF Contest Rovers, moderately powered ham equipment, a re-charging station for electric model airplanes, boats and cars, and for RV's and campers.
Charging from vehicle starts when the car is running and the alternator is maintaining the car battery over 13.5 volts.
Charging from vehicle stops when the alternator is off and the car's battery has fallen below 12.6 volts.
All solid state. FET switch. No relays. Handles up to 40 amperes. Input fuse 40A.
Works safely with all types of 12-volt lead-acid batteries, Flooded Lead Acid, Gelled & AGM.
May be used without a battery to automatically turn a radio on whenever the car is running. The radio will turn off with a small delay after the car is stopped.
New Improvements
PWRguard output shut-off when voltage is out of range
USB port for setting operating thresholds and for monitoring
Smaller and lighter weight enclosure
Dimensions: 4.5" W x 3.4" L x .76" H
Specifications
| | |
| --- | --- |
| Operating Voltage: | 20V maximum |
| Quiescent Current: | Less than 5mA |
| Maximum Current: | 40A |
| Voltage Drop: | 0.25V at 1A, diode drop |
| Series Resistance: | 0.01 ohms maximum |
| Switch Time-Constant: | 5 seconds |
| Turn ON Threshold: | 13.3 (+/- 0.1)V |
| Turn OFF Threshold: | 12.6 (+/- 0.1)V |
| Green LED: | Indicates the ISOpwr output is ON |
| Dimensions: | 4.5" W x 3.4" L x .76" H |
| Enclosure: | Aluminum case |
Includes
ISOpwr+ Unit
(4) Rubber Feet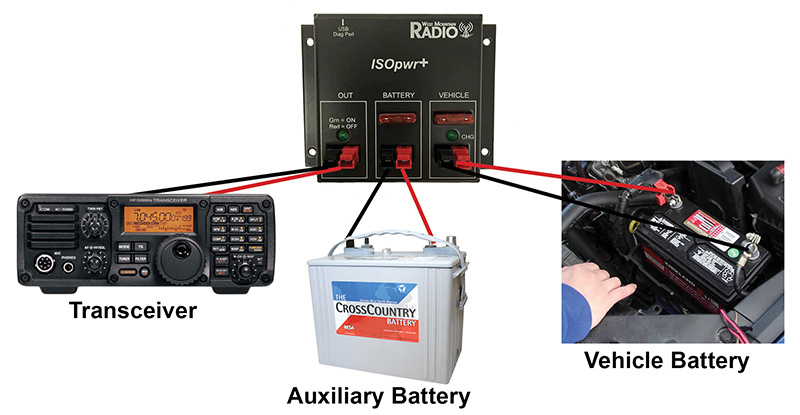 Quality Declaration
Product designed, tested and used by ham radio operators onsite.