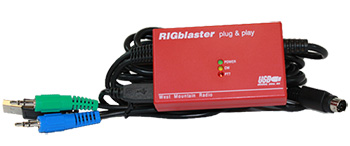 RIGblaster Plug & Play
#58009-960
$119.95
Click for Details
USB only
See our
Radio compatibility chart
before ordering
RIGblaster Plug & Play
USB Flash Drive with Device Drivers, Owner's Manual & Collection of Ham Radio Sound Card Software
To receive hamuniverse.com discount, use code: hamu

Capabilities
Operate your favorite digital mode program simultaneously with your favorite logging program using the RIGblaster's virtual
COMport Splitter software.
Radio Compatibility
With its simple USB "Plug and Play" installation, the RIGblaster Plug & Play is the simplest RIGblaster to plug in provided that your radio has compatible data/aux jacks. If your radio's data jack allows operation on all bands and modes while supporting proper microphone operation, the RIGblaster Plug & Play may be may be the best RIGblaster for you. Adaptors are required for most radios. See Radio Compatibility Chart for a list of radios that work with the RIGblaster Plug & Play, what adapter cables are required, and what optional cables are available.
Computer Interface
USB cable
USB powered - No External Power Required
Built-in Rig Control
Built in rig control with Icom and Ten Tec or with TTL level CAT control (round CAT jack) Yaesu radios. Control cable an inexpensive option
Rig control is possible along with sound card PTT control and CW keying on a SINGLE serial port using Hamscope or MixW software. If HRD is used with DM780, because they are separate programs, they must be configured correctly to work together as one program
True Keyed CW
Fully isolated CW keying output for direct keying of your rig's CW. This jack is for use with non-sound card software using serial DTR control. CW Keying cable optional
Mic/Keying/Audio
Simplest radio to plug in provided your radio has compatible data/aux jacks
Available adapters simplify mic/keyer/audio connections
Isolated Audio and Keying
Front panel indicators show PTT and CW keying control, USB connection status
Properly matched and RF suppressed audio for your radio
Carrier detect (COR) for Echolink Ready (see Support Page for detail on activating this feature)
Compact - great for portable or QRP operation
Construction
Assembled in USA to IPC-610 manufacturing standards
Printed circuit board uses FR4 material, double sided, plated through holes, solder mask over bare copper, silk screened
Stainless steel hardware throughout including PEM™ threaded mounting standoffs
Specifications
See The Radio Compatibility Chart for a list of radios that work with the RIGblaster Plug & Play, what adapter cables are required, and what optional cables are available.
| | |
| --- | --- |
| Overall Dimensions (maximum, w/o cables) | .65" H x 2.9" W x 2" D |
| Weight (with cables) | 2 oz. |
| DC Power requirements | 5V USB powered < 60mA |
| Frequency response sound card input | 100 Hz - 15 kHz, + - 1dB |
| Distortion sound card input | Less than 0.1 % THD @ 1kHz |
| Input impedance (from sound card) | 600 ohms resistive, minimum |
| Sound card level | -20 dB |
| PTT max rating | 10mA @ 8V |
| USB interface | USB 2.0 or lower |
The line level (data jack) audio is completely isolated from all other grounds. The sound card audio is isolated using two audio isolation transformers for both transmit and receive. The PTT and CW keying circuits are fully isolated using a dual opto-isolator.
Unlike the RIGblaster Pro, Plus II, and Plus the RIGblaster Plug & Play was designed for specific radios and as such will only work with specific radios.
See our RIGblaster Plug & Play Radio Compatibility Chart which shows what radios are supported, what adapter cables are required, and what optional cables are available.
Quality Declaration
This product has been tested to comply with Part 15 of the FCC rules for a Class B computer peripheral and digital device for use in the home and office. This testing is done to ensure the product does not generate RF interference.
The Windows XP, Vista, Windows 7, Windows 8, Windows 10 and Windows 11 PC device drivers for this product have passed Microsoft WHQL testing and are certified. Using certified drivers simplifies the driver installation process and ensures the driver is not going to crash or otherwise damage the PC configuration. The Windows 98 and 2000 drivers are supported.
This product has passed testing at West Mountain Radio to show immunity to RF interference from amateur radio equipment. This ensures that in a typical station the RF field will not corrupt data transfer.
Audio quality testing on this product has shown it to perform excellent with audio signals from 300 to 5000 hz. This demonstrates a low level of distortion for both data and voice.
This product has full D.C. isolation on critical circuitry/connections to prevent ground loops and hum pickup.
Product designed, tested and used by ham radio operators onsite.
Includes
A USB flash drive of the RIGblaster Software Collection is the standard media. If you are unable to use a USB flash drive, you may request the software on a DVD or three (3) CD Set. When ordering online, in the comments section of the order form, type in "Request DVD" or "Request 3 CD Set". Alternately, the collection of software programs may be individually downloaded here.
The owner's manual is available in PDF format on the USB flash drive and online. If you require a printed manual, request "Printed Manual" in the Notes section of the online order.