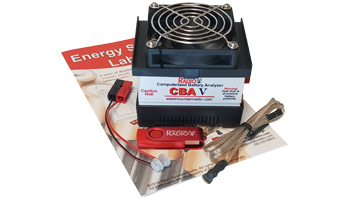 Energy Science Lab Kit
#S-203
$269.95
Click for Details
CBA V Unit
12" Pigtail Adapter
6 ft USB Cable (A-B)
40 Amp Fuse
Temperature Probe
Universal Battery Holder (AA, AAA, C, D cell)
USB Flash Drive of Standard Software and Instructional Materials
Extended Software
Lab Experiments Manual
Today's renewable energy solutions rely on batteries. The Energy Science Lab Kit is an educational series of detailed electrical experiments to precisely measure, record, and compare performance of various battery models, capacities, and chemistries. Teachers are able to show students real-world battery performance investigations that are interesting and relevant to all students relying on portable electronic devices as part of their daily lives! Exercises show how to measure battery effectiveness and identify the limitations.
Electrical Concepts:
Voltage
Current
Resistance
Power
Energy
STEM Lab Kit (Electrical)
Middle/High School Science, Physics, Electronics & Trades
NGSS referenced
Detailed Instructor's Guide and Student Hand-outs
NGSS References
High School:

HS-ETS1-3
HS-PS1-5
HS-PS3-1
HS-PS3-3

Middle School:

MS-ETS1-2
MS-ETS1-3
MS-ESS3-3
Experiments and Lab Overview
Six Experiments prepared for Instructor, Student and Inquiry versions:
Brand Name vs. No Name

- Test AA off-the-shelf batteries to determine which is the best value.

Typical - I'm Not Typical

- Explore how different discharge profiles affect Ampere-Hours capacity.

Older, But Not Better

- Determine the affects of aging on batteries.

Size Really Matters

- The real energy difference between AAA, AA, C, & D cells.

Burr - I'm Cold

- The affects of temperature variance on batteries.

Cost vs. Value

- Analyze new specialty AA cells versus the higher cost.
Instructor
version includes all necessary tables, test results, observations and conclusions.
Student
version has clear objectives and step-by-step instructions to perform each experiment.
Inquiry
version consists of two-page limited (open-ended) directions for advanced students.
Instructor Tools
Detailed explanations provide insight and overview of each experiment
Hand-outs for students to record data tables and sample charts
Actual experiment test logs, sample runs, graphical images and raw data files
Observations, conclusions, graphical results in Excel format
Troubleshooting suggestions
Safety warnings and considerations
Internet references
Instructor's Edition
Table of Contents
Overview
1
Purpose of This Experiment
3
Curriculum Level/Grade Segment
4
Next Generation Science Standards
5
Material Required (Bill of Materials)
6
Pre-Experiment Recorded Data
6
Expected Outcome
7
Experimental Steps
7
Post-Experiment Measured Data
9
Observations and Conclusions
10
Experiment Summary
11
Possible Variations of Experiment
13
Troubleshooting/Safety Warnings
16
Appendix
Blank Graph for Measured Results
17
Blank Pre-Experiment Recorded Data Table
17
Blank Post-Experiment Measured Data Table
18
Export Raw Data (Excel format)
18
Equipment Photos
19
Internet Resources/Battery Technical Links
20
Specifications
CBA V Specifications
Maximum continuous discharge (at ambient 75°F)
1.5V: 60W
3V: 80W
6V: 120W
9V & up: 150W
Short term maximum discharge
200W
Example: 12V / 200W 1 minute max
Discharge current range
0.01A to 40A
Current Accuracy

Typical
Max
Standard CBA V
0.01A-1.5A
+/-25ma
+/-75ma
1.5-40A
+/-2%
+/-5%
CBA V Pro
0.01A-1.5A
+/-3ma
+/-7ma
1.5-40A
+/-0.5%
+/-1%

Current Rise/Fall Time
<300 ms
Voltage Accuracy
At CBA V connector: +/-1%
Remote sense cable: +/-1%
Voltage range for battery under test
CBA V & CBA V Pro: 1V to 57V
CBA V Pro 100: 1V to 100V
Sample rate
Standard software: 1 second
Extended software: 50ms to 10 minutes
Residual current drain while battery is connected and not testing
Rough estimate: Current in ma = 0.27*Voltage - 0.25
For example 2.99ma at 12V
Maximum temperature for a full load
Ambient: 75°F
Heat Sink: 140°F
Internal: 205°F
PC
Windows 32 or 64 bit OS
4 GB memory minimum, 8 GB or more recommended
USB port with full power (500ma)
Dimensions
3.5" H x 2.8" W x 3.6" D
Weight
16 oz.
High performance micro controller with built in USB interface and 12 bit A/D conversion.
USB powered; the CBA does not use the battery being tested to run the CBA or the fan.
System ready and Test in progress LED indicators, viewable from across a room.
CBA internal over temperature sensing and protection.
Graph printing on any standard color or B&W printer.
Battery test label printing on standard 05160 stick-on labels.
Includes
40 Amp Fuse
USB Flash Drive of Standard Software and Instructional Materials
Lab Experiments Manual