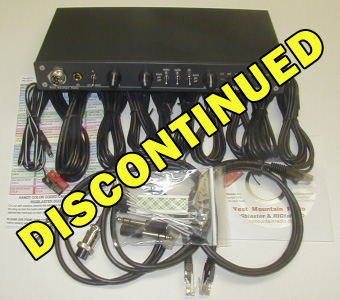 RIGblaster Duo has been discontinued. West Mountain Radio currently is considering a new model or an alternative model to replace the Duo.

Capabilities
Operate your favorite digital mode program simultaneously with your favorite logging program using the RIGblaster's virtual
COMport Splitter software.
Dual Radio Operation
A complete station integration console that allows you to conveniently monitor and control audio almost any way you wish and also select transmit so that you may use your best microphone, headphones and speakers on two different radios
Makes your station neater, better, and more efficient and easier to operate
Cleans up clutter and eliminates tangled mic. and headphone cords
Compatible with All Manufacturers' Radios
Can be used with almost any make or model microphone and most any two, make or model radios no matter what brand
Any radio that has a 8 pin round screw on microphone connector
Any radio that has an RJ45 modular telephone style connector
Any radio with RJ25 6 wire microphone connector with the purchase of an optional FT100 style 6 wire modular mic. cable
Any radio with 4 pin round microphone connector with the purchase of a optional 4 pin mic cable
Computer Interface
Comes with a built-in dual USB to serial converter to use two amateur radio software applications at the same time
Built-in Rig Control
Works with any radio that requires a special TTL level converter that does not hook directly to a RS232 port
Dual CI-V or ttl level CAT rig control to control two different radios via either virtual COM port
Tested with Icom and Yaesu, compatible with Ten Tec
True Keyed CW
Dual isolated CW keying and dual FSK (MMTTY EXTFSK) outputs key both radios via computer software that can operate with either virtual COM port
Separate CW and FSK Keying jacks
Maximum Mic/Keying/Audio Flexibility
Enables use of 1 mic, 1 pair of headphones, 1 pair of speakers with two radios
Two built-in 3 watt per channel stereo amplifiers let you monitor everything; two radios and the computer, with a single pair of amplified or un-amplified stereo speakers and/or a pair of headphones
Versatile receive audio selection that is modeled after the function and ergonomics of an aircraft audio panel to monitor your choice of any combination of radio A, B, and computer on headphones and/or speakers. Each radio can be internally configured for your choice stereo dual receive, dual mono or left or right
Computer audio input can be internally configured to left and right for radio A and B or can, instead, track what is being monitored
External 12 volt trigger outputs for optional station on/off control
External trigger outputs for "radio ready to transmit" LED indicators or other control functions.
Construction
Assembled in USA to IPC-610 manufacturing standards
Printed circuit board uses FR4 material, double sided, plated through holes, solder mask over bare copper, silk screened
Enclosure: .062 aluminum, polyurethane painted, silk screen labeling front and back
3M Bumpon™ protective feet and 3M™ adhesive pads are provided for mounting
Toggle switches: 50,000 make and break cycles, 2 amps 250 VAC
Stainless steel hardware throughout including PEM™ threaded mounting standoffs
Includes
Accessory Kit

(12) White Wire Jumpers
(2) 1/8" Mini to 1/4" Adapter
Additional/Replacement DVD for RIGblaster Products
A DVD of the RIGblaster Software Collection is the standard media. If you are unable to use DVD media, you may request the software on a two (2) CD Set. When ordering online, in the comments section of the order form, type in "Request 2 CD Set". Alternately, the collection of software programs may be individually downloaded here.
Quality Declaration
The Windows XP, Vista, Windows 7 and Windows 8 PC device drivers for this product have passed Microsoft WHQL testing and are certified. Using certified drivers simplifies the driver installation process and ensures the driver is not going to crash or otherwise damage the PC configuration. The Windows 98 and 2000 drivers are supported.
This product is fully enclosed in a metal case and has passed testing at West Mountain Radio to show high immunity to RF interference from amateur radio equipment. This ensures that in a typical station the RF field will not corrupt data transfer.
Audio quality testing on this product has shown it to perform excellent with audio signals from 300 to 5000 hz. This demonstrates a low level of distortion for both data and voice.
This product has full D.C. isolation on critical circuitry/connections to prevent ground loops and hum pickup.
Product designed, tested and used by ham radio operators onsite.
Powerpole® Connector Features & Benefits
Genderless Housings: Provide simplified assembly and minimize the number of components
Stackable Modular Housings: Available in four sizes to right size your connection need
Connection Versatility: Contacts for wire, PCB, or busbar all fit into the same housings
Low Resistance Connection: Silver or tin plated contacts inside housings that strongly force the contacts together
Color Coded Housings: Help ensure that connectors are assembled and mated correctly
Self Securing Design: Stainless steel springs create a robust force between the contacts that holds the connector in the mated condition, but allows it to be quickly disconnected.
Anderson Powerpole® Connectors and General Installation Tips
Powerpole® Connectors
15A
30A
45A
Amps (UL) Per Pole
0 to 55
0 to 55
0 to 55
Volts (UL) Per Pole
600
600
600
Amps Continuous
15
30
45
Wire Gauge (AWG)
20 - 16
16 - 12
14 - 10
Touchsafe
Polarized Housing
Yes
Yes
Yes
Yes
Yes
Yes
PDF Files
Links
Data Sheet
https://www.andersonpower.com/
Buy Powerpole® Pack
View Options