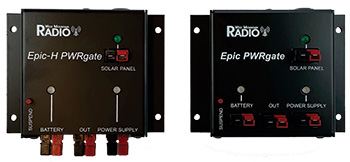 Epic PWRgate
#58404-1673
$189.95
Click for Details
Epic PWRgate Unit
USB-micro Cable
(4) Retention Clips
Owner's Manual
Reference Card
Epic-H PWRgate
#58404-1795
$189.95
Click for Details
Epic-H PWRgate Unit
USB-micro Cable
(4) Retention Clips
Owner's Manual
Reference Card
The Epic PWRgate is West Mountain Radio's 3rd generation power gate product. It uses advanced technology to achieve a very low power loss and has maximum flexibility to charge modern batteries. Both models are the same with exception of the Powerpole® orientation.
Epic PWRgate is a 12 volt backup power system rated at 40 amperes continuous from either a Power Supply or a Battery.
Connected equipment will instantly switch to battery during a power blackout or power supply failure.
Low loss PWRgate provides forward voltage drop of only 0.05 volts.
USB port access to monitor system or to change charge parameters.
Program for specific battery types.
Supports smart charging of either Lead Acid or Li-Ion battery charging up to 10A.
Supports power supply or direct solar panel (MPPT) battery charging for all battery chemistries. Solar panel VOC must be <= 30V.
Maximum Power Point Transfer (MPPT) charging provides the maximum power out of a solar panel.
Can be programmed for vehicle use to suspend charging when the alternator is off.
Complete LED status indicators.
Battery charge suspend button to eliminate current draw or charger noise for 30 minutes. Possible RFI may be emitted from MPPT charge controller.
Optional temperature probe to control charging based on battery temperature.
Solid, durable construction in an aluminum case. Includes mounting holes for convenient and secure use in mobile units.
Uses Anderson Powerpole® connectors.
Please click here for more information on Powerpole® Connectors.
Specifications
Maximum Voltage:
PS 16V / Solar 30V
Maximum Current:
40 Amperes
Maximum Charge Current:
10A
Voltage Drop:
0.05VDC
Connectors:
Anderson Powerpole®, 45A
Size:
4.5 x 3.375 x 1.25 in
Weight:
0.35 lbs
Mounting Holes:
Four - 0.175 d, #8 hardware
Charging Circuit:

| | | | |
| --- | --- | --- | --- |
| Jumper | Lead Acid | AGM | LiFePO4 |
| Charge Voltage | 13.85V | 14.4V | 14.5V |
| Charge Current | 1, 5 or 10 amps | 1, 5, 10 amps | 1, 5, 10 amps |
| Stop Charge Current | 0.25A | 0.25A | 0.5A |
| Trickle Charge | 0.15A | 0.15A | 0A |
| Recharge Voltage | 12.1V | 12.1V | 12.6V |
| Max Charge Time | 25 hrs | 25 hrs | 25 hrs |
| Retry Time | 4 hrs | 4 hrs | 4 hrs |
| Chemistry | Lead Acid | AGM | LiFePO4 |
| Min PS Volts | 13.9V | 14.45V | 14.45V |
| Lowest Temp (F) | 0 | 0 | 35 |
| Highest Temp (F) | 120 | 120 | 110 |
| Use Temp for Charge | Yes | Yes | No |
*Note: The above parameters may also be changed via the USB interface.
Quality Declaration
Product designed, tested and used by ham radio operators onsite.
Includes
Epic PWRgate Unit
USB-micro Cable
(4) Retention Clips
Reference Card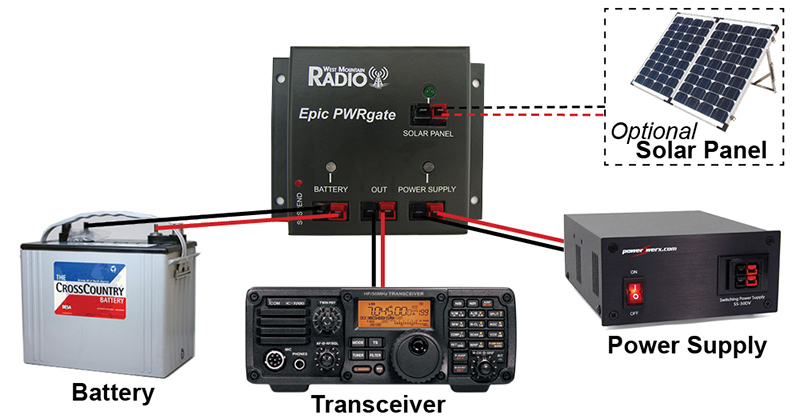 Powerpole® Connector Features & Benefits
Genderless Housings: Provide simplified assembly and minimize the number of components
Stackable Modular Housings: Available in four sizes to right size your connection need
Connection Versatility: Contacts for wire, PCB, or busbar all fit into the same housings
Low Resistance Connection: Silver or tin plated contacts inside housings that strongly force the contacts together
Color Coded Housings: Help ensure that connectors are assembled and mated correctly
Self Securing Design: Stainless steel springs create a robust force between the contacts that holds the connector in the mated condition, but allows it to be quickly disconnected.
Anderson Powerpole® Connectors and General Installation Tips
Powerpole® Connectors
15A
30A
45A
Amps (UL) Per Pole
0 to 55
0 to 55
0 to 55
Volts (UL) Per Pole
600
600
600
Amps Continuous
15
30
45
Wire Gauge (AWG)
20 - 16
16 - 12
14 - 10
Touchsafe
Polarized Housing
Yes
Yes
Yes
Yes
Yes
Yes
PDF Files
Links
Data Sheet
https://www.andersonpower.com/
Buy Powerpole® Pack
View Options