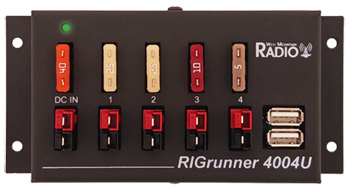 RIGrunner 4004 USB
#58315-1043
$89.95
Click for Details
(4) Rubber Feet
(4) 3M Adhesive Pads
Owner's Manual
Features
The RIGrunner 4004U can deliver up to 40 amps total through 4 outlets and includes a dual USB socket for charging all your portable devices that need a USB socket for charging.
Each port has an RFI protection capacitor
Each fuse has a blown LED
Each port uses high current Anderson Powerpole® connectors with 0.001 ohm contact resistance
Please click here for more information on Powerpole® Connectors.
Specifications
| | |
| --- | --- |
| Overall Dimensions (maximum, w/o cables) | 1.4" H x 4.7" W x 3.0" D |
| Weight | 7.2 oz. |
| Maximum total current | 40 amps |
| Maximum single individual outlet current | 40 amps (fuse protected) |
| ICAS current rating (fuse limited) | 37 amps |
| USB charge current | 4A max for both ports |
Construction
Built in USA to IPC-610 commercial manufacturing standards by an ISO9002 facility.
Printed circuit board .062 FR4 material, extra heavy 3oz. copper, with greater than 1" wide high current traces.
Double sided, plated through holes, solder mask over bare copper, silk screened commercial grade printed circuit board.
Enclosure: .062 aluminum, with attractive and extremely durable powder coat painting and clear silk screen labels.
Power connectors: exclusively Anderson Power Products® Powerpole®.
Connectors are arranged according to the ARES/RACES standard (see our links).
Fuses installed are standard ATC/ATO automotive fuses available in 10 values from 1 to 40 Amps.
Stainless steel hardware with PEM™ threaded mounting standoffs.
Includes
(4) 3M Adhesive Pads
(4) Rubber Feet
Powerpole® Connector Features & Benefits
Genderless Housings: Provide simplified assembly and minimize the number of components
Stackable Modular Housings: Available in four sizes to right size your connection need
Connection Versatility: Contacts for wire, PCB, or busbar all fit into the same housings
Low Resistance Connection: Silver or tin plated contacts inside housings that strongly force the contacts together
Color Coded Housings: Help ensure that connectors are assembled and mated correctly
Self Securing Design: Stainless steel springs create a robust force between the contacts that holds the connector in the mated condition, but allows it to be quickly disconnected.
Anderson Powerpole® Connectors and General Installation Tips
Powerpole® Connectors
15A
30A
45A
Amps (UL) Per Pole
0 to 55
0 to 55
0 to 55
Volts (UL) Per Pole
600
600
600
Amps Continuous
15
30
45
Wire Gauge (AWG)
20 - 16
16 - 12
14 - 10
Touchsafe
Polarized Housing
Yes
Yes
Yes
Yes
Yes
Yes
PDF Files
Links
Data Sheet
https://www.andersonpower.com/
Buy Powerpole® Pack
View Options